9/19/2021 at 7:30am – Maps from Ryan Stephens
Below are maps of the KNP Complex burning in Sequoia National Park made from infrared data captured at 2350PDT on September 18. IR Interpreter Alex Pincus log:
-Imagery shows the fire advancing to the East NE and has reached the Wuksachi Lodge and crossed Clover Creek in several spots.
-The perimeter has advanced towards Pinewood and several heat sources are across the General's Hwy IVO the General Sherman Tree.
-The perimeter has also reached Giant Forest Village and crossed the Hwy in several spots.
-In the south/Paradise area the fire continues to burn to the south and east.
Green lines are Giant Sequoia Groves. Blue areas are prescribed fires (Rx) within the last 10 years. Maps focus on Rx burns playing role in fire spread.
Overview of the fire.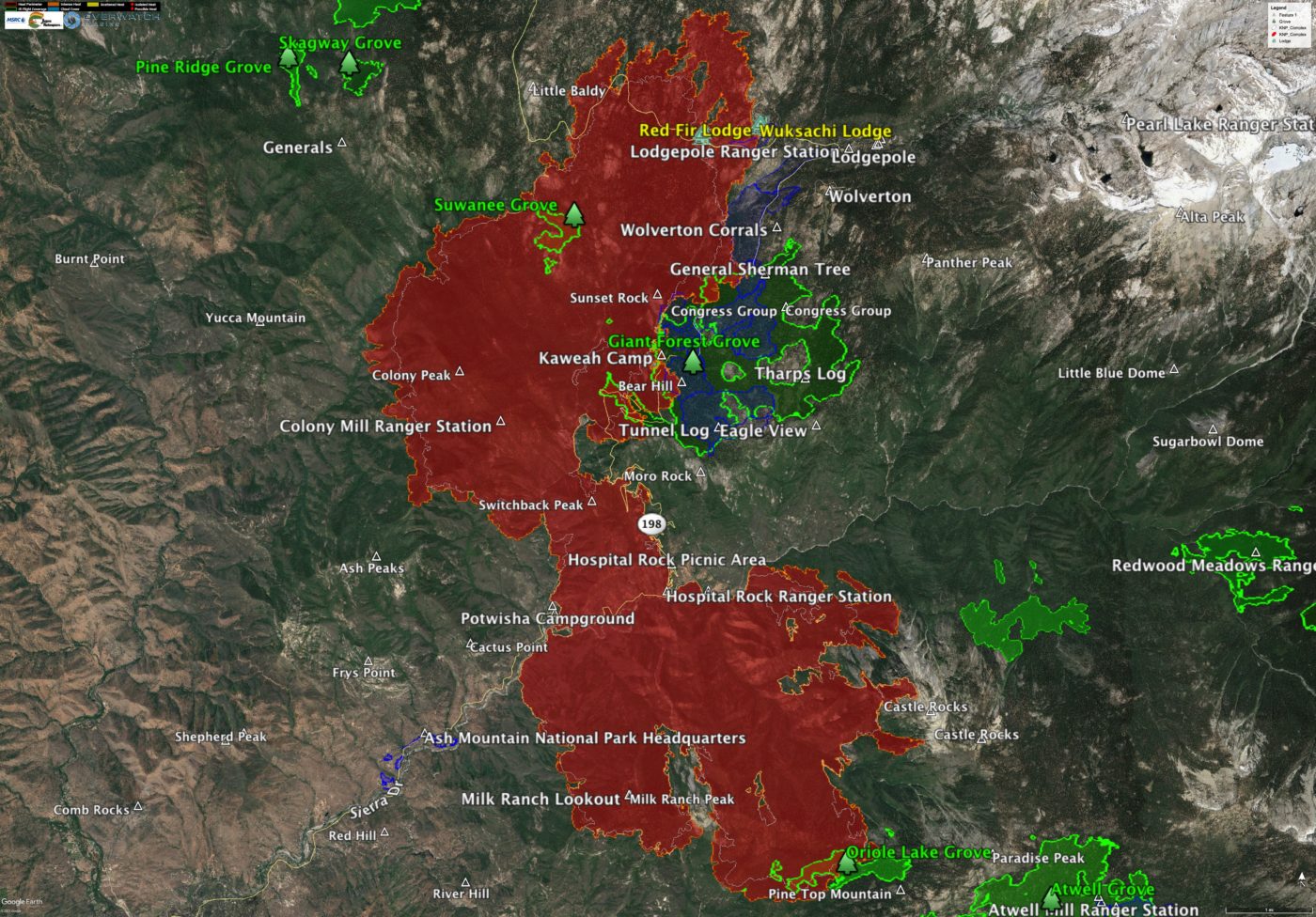 View from General Sherman looking west. With Rx good fire (blue).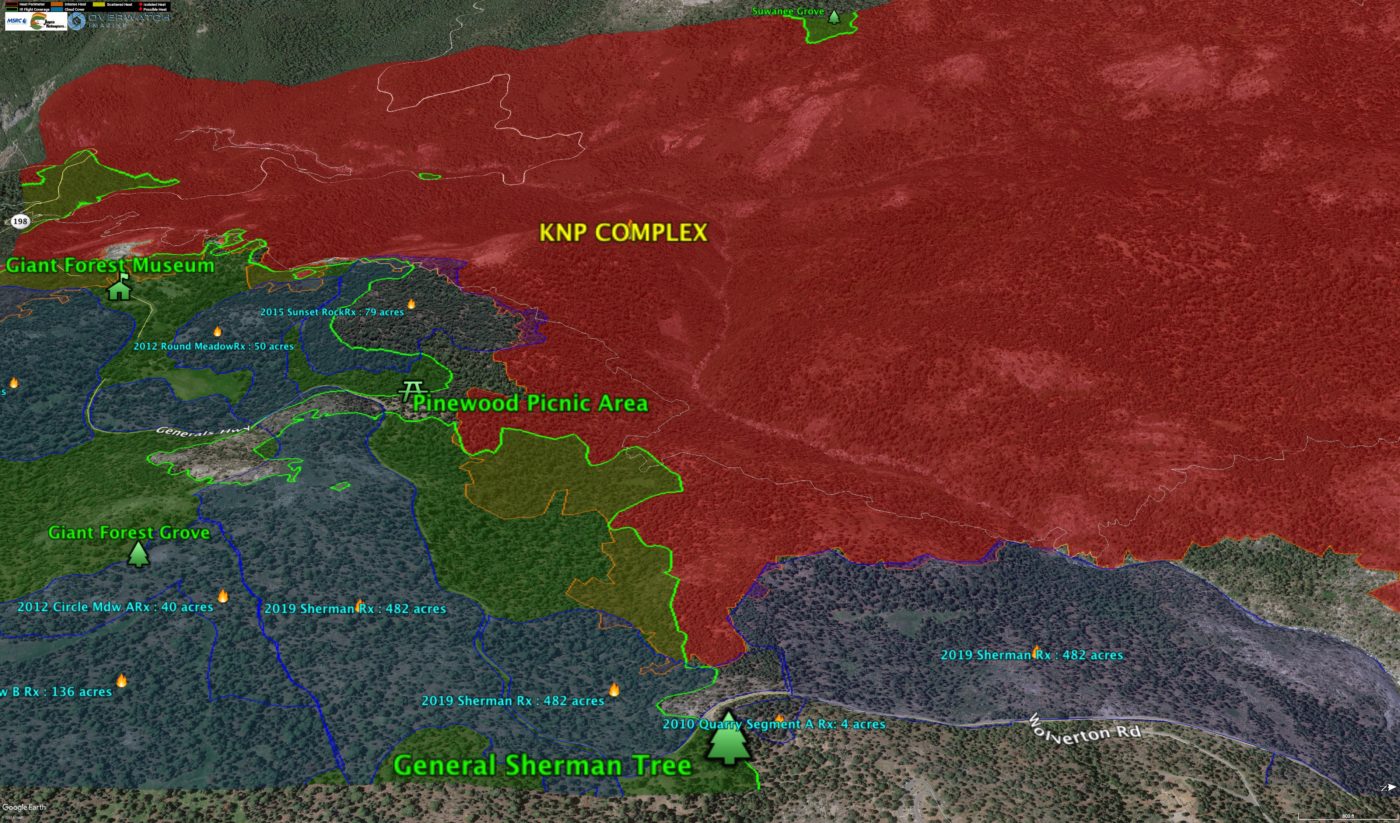 View from the Wuksachi Lodge looking west.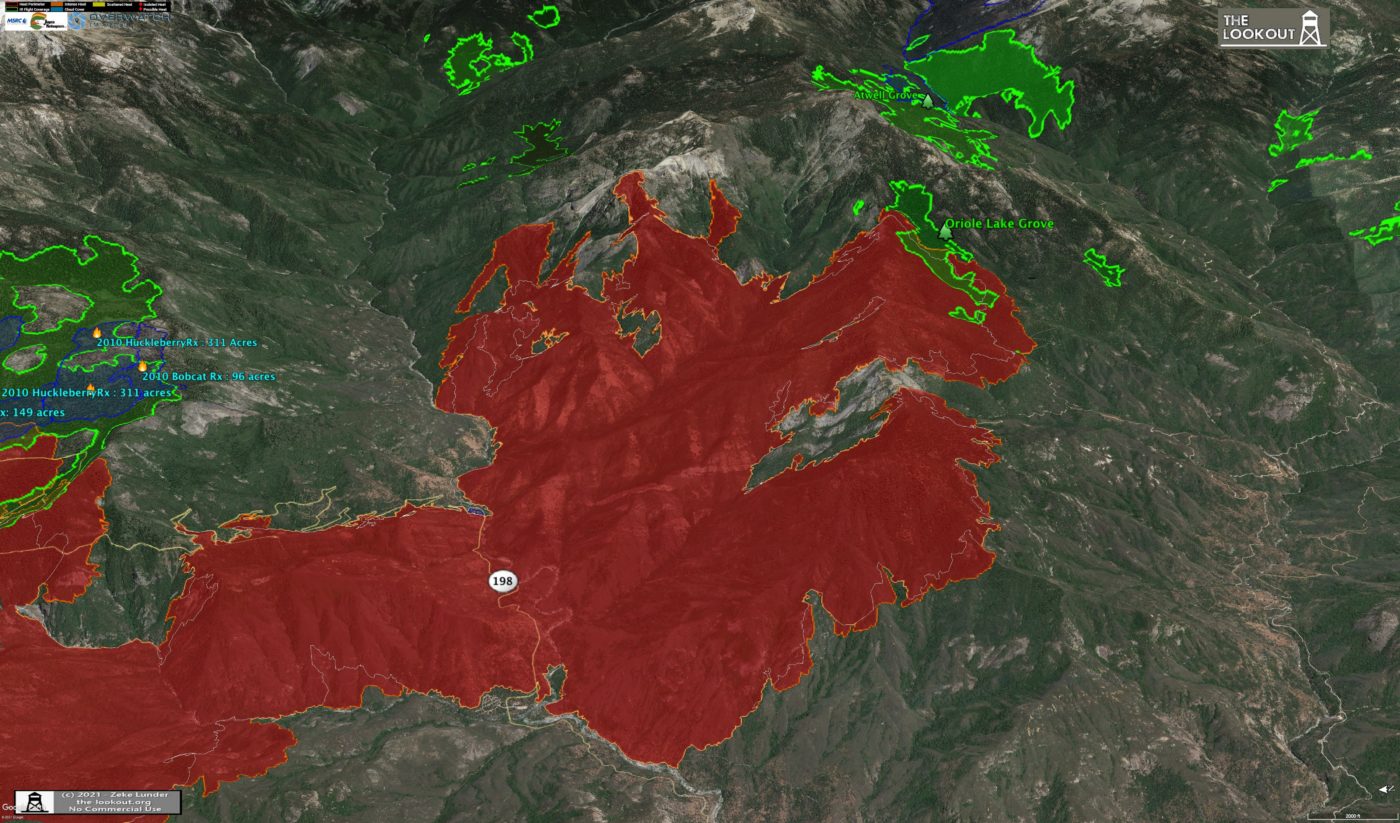 Looking west over the southern portion of the fire.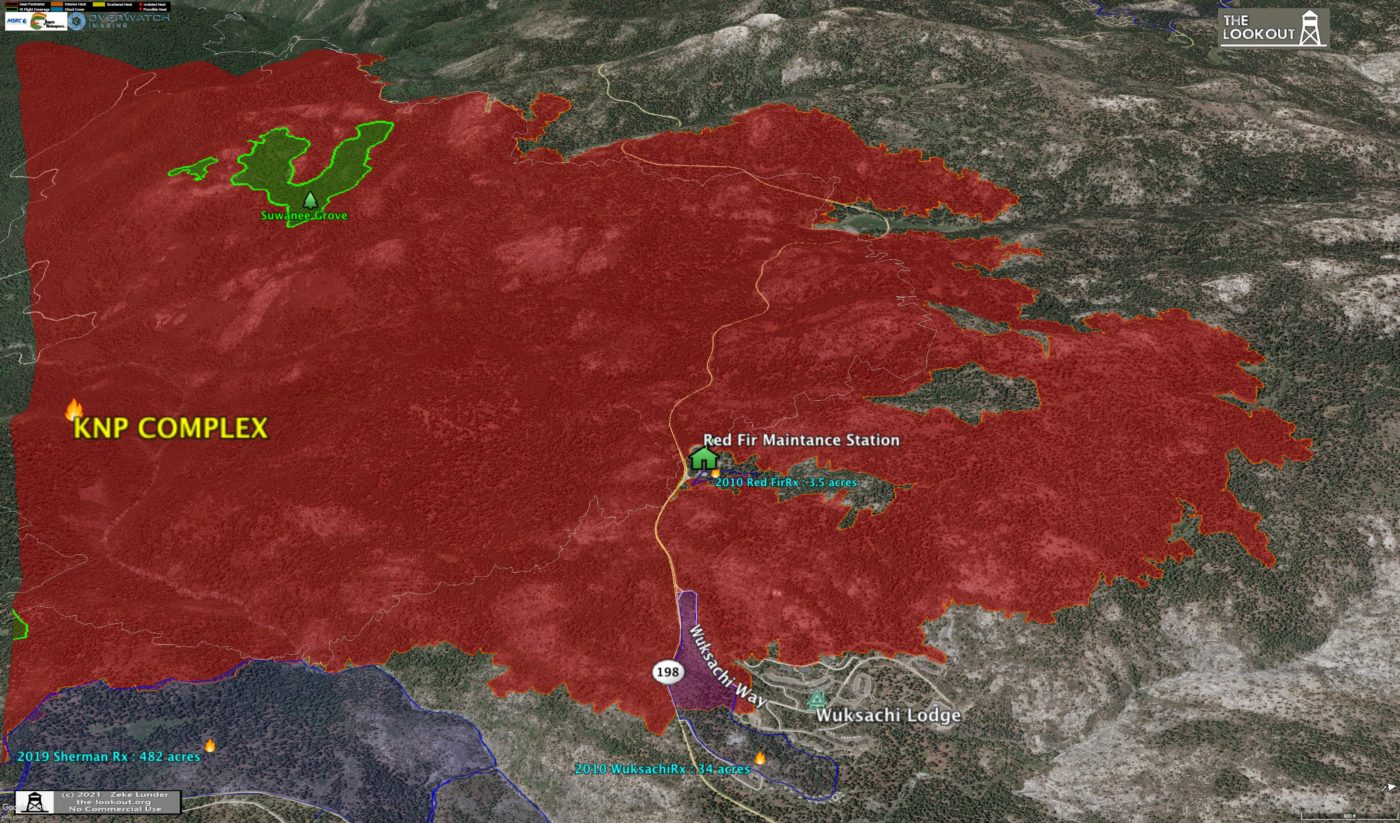 Windy Fire Maps
Below are maps of the Windy Fire captured at 2130PDT (9:30pm) on September 18. The white lines show roughly 24 hours of fire spread.
Tule River Reservation is shaded BROWN, Giant Sequoia Groves are Shaded GREEN, and last 10 years of prescribed fire footprints are shaded BLUE.
Looking north from the south end of the fire.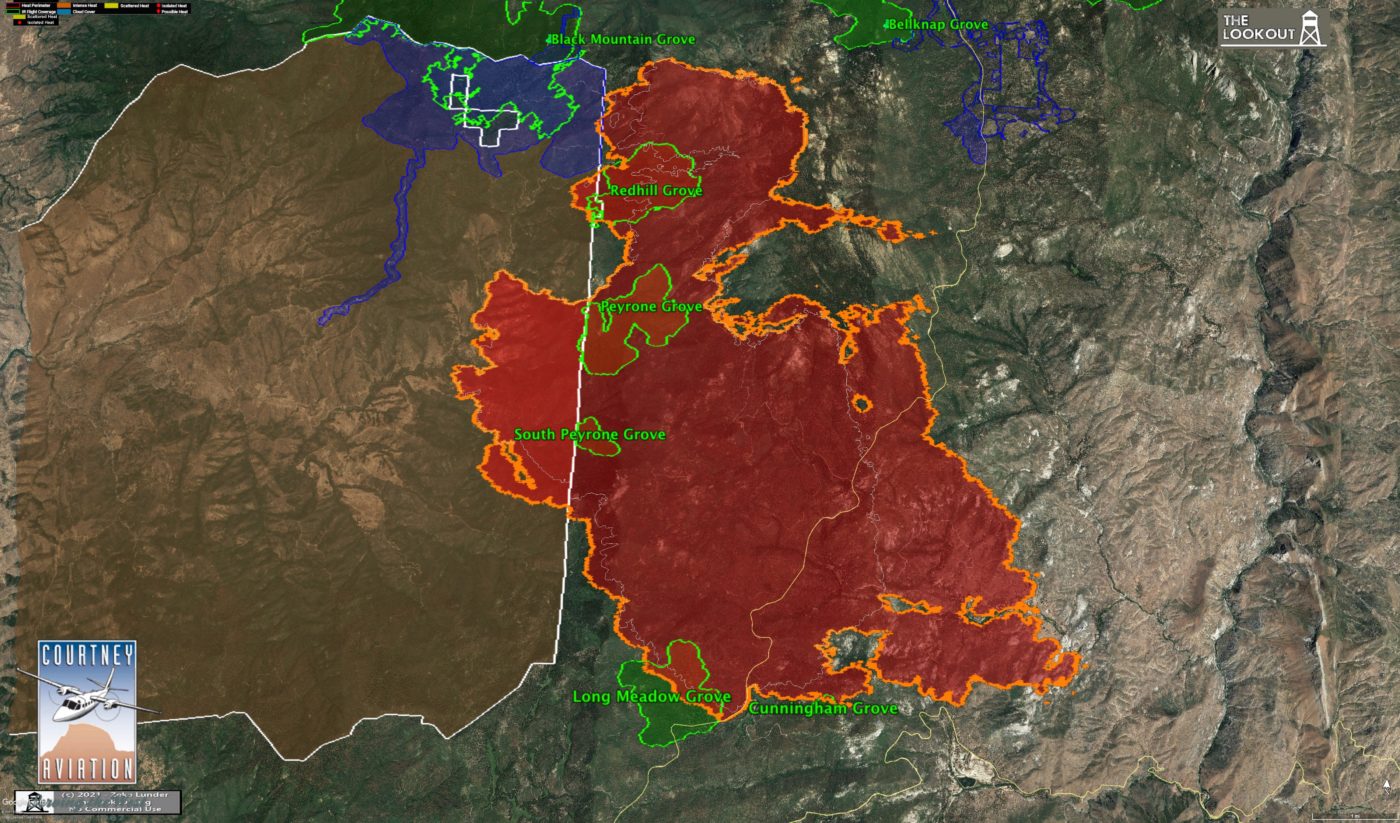 Looking east toward the 2002 McNally Fire footprint (shaded magenta).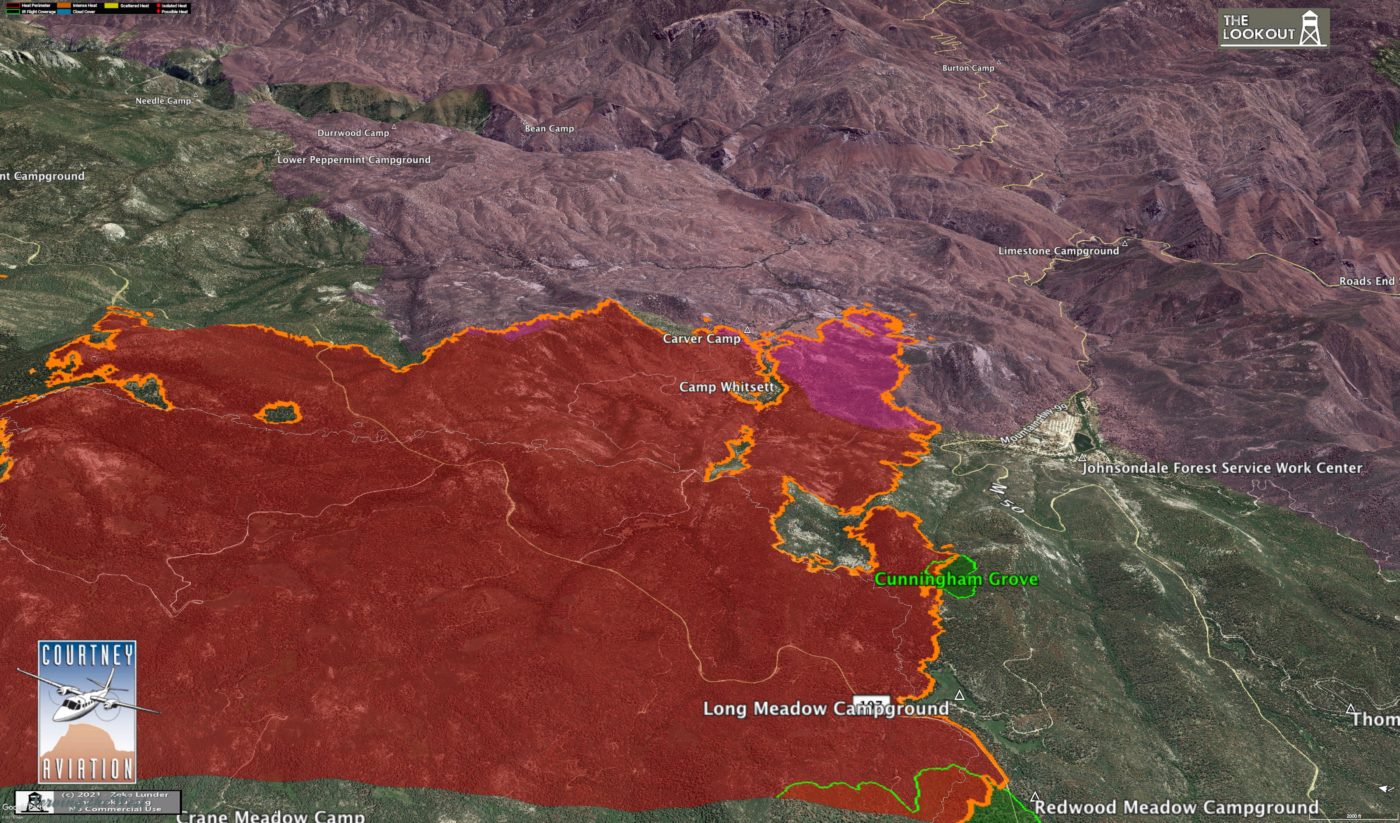 Looking west from the Peppermint Heliport.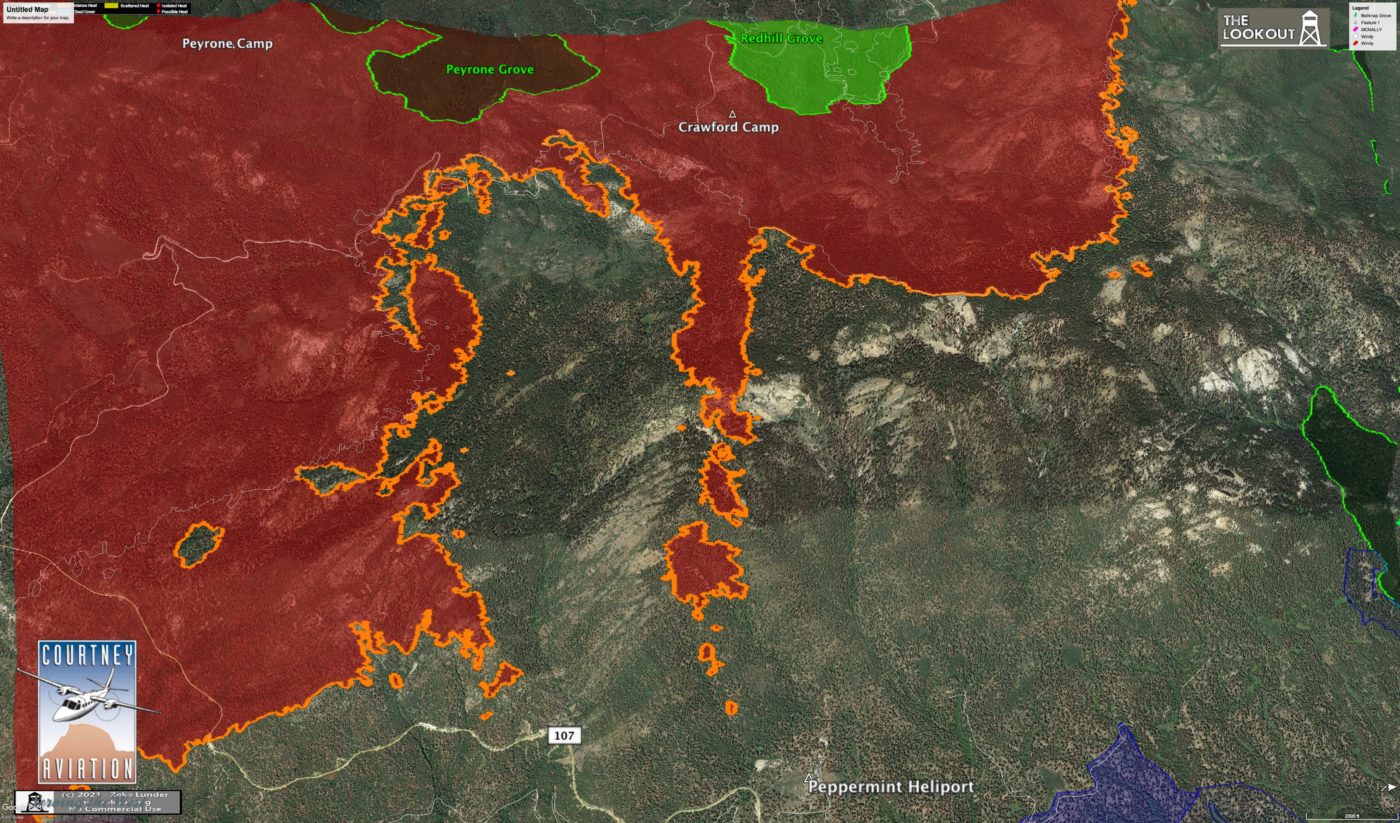 9/19/2021, 7am – Commentary from Chuck Erwin

KNP Complex
Holding outcomes good throughout the day.  Plan A of excluding fire from the Giant Forest is still in place. IR shows spots north of the Generals Highway, from Red Fir to Little Baldy.  No further extension towards Lodgepole today.
By IR and VIIRS data, it appears that the Paradise Ridge line is holding through Milk Ranch Rd to Oriole Lake.  This may be a tricky spot during frontal activity Sunday, especially as ground becomes increasingly steep and difficult to access towards Paradise Peak.  Ash Peaks down to Yucca Creek may be a similar point of concern.
Various social media reports were noted yesterday about logistical issues for the KNP Complex.  Lack of resources generally available at Type 1 Fire Camps were noted, specifically limited food, no fuel and no ice.  We hope to further research the issue and find some reliable primary sources to find out where things went wrong.
Correction note:  I misheard the IMETs name during the townhall meeting.  IMET is Matt Mehle (May- leh) and I incorrectly wrote down 'Bailey.'

SQF Windy
Strong west winds overnight caused rapid spread as the fire reached flashy fuels in the McNalley Burn Scar.  This portion of the fire front now runs from Alder Creek (21s70 and 170),  well past Camp Whitsett and on to Capital Rock.  With spotting on the northeast slopes of that mountain, there is a possibility of significant spread out towards Forest Highway 99 and the Seven Teacups trail.  If the fire grows as rapidly as it did over the last 24 hours, there is a possibility that it reaches the Kern River by Monday.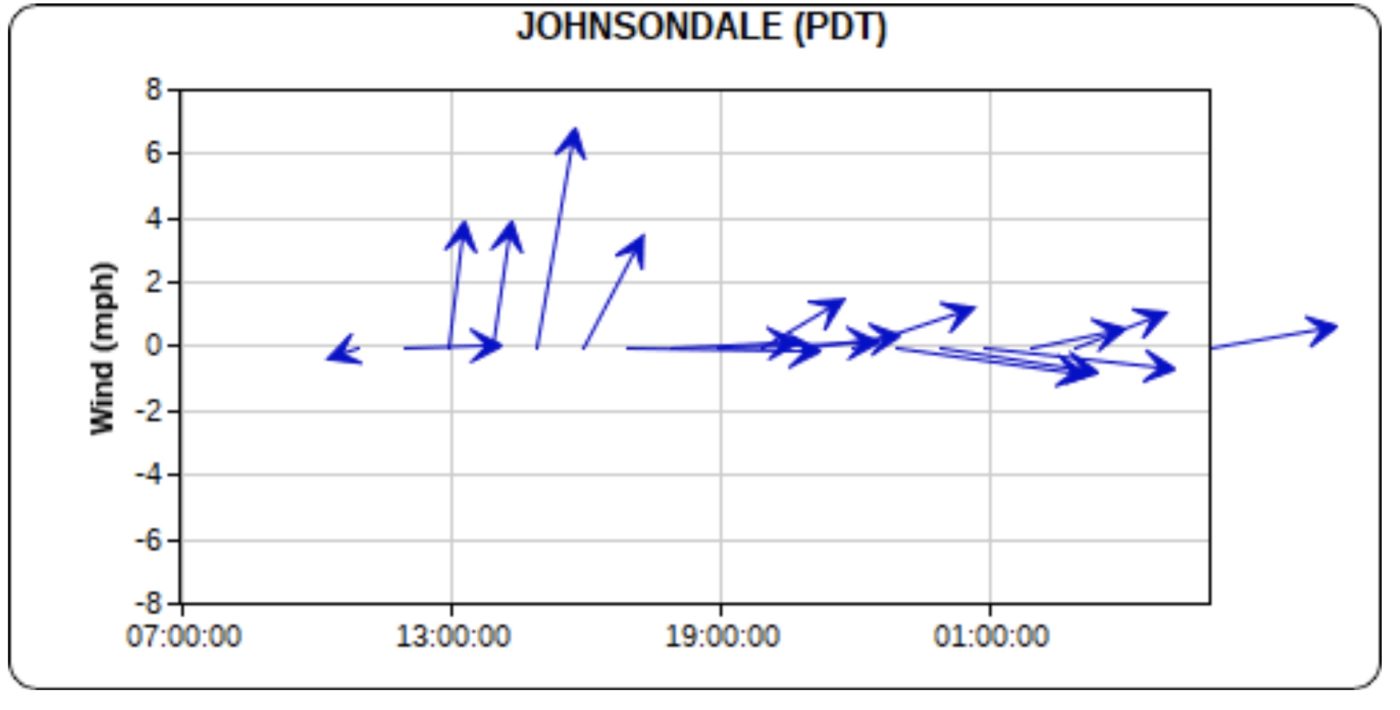 The above graph shows wind direction and speed (vector) as recorded by the Johnsondale RAWS last night.  Longer arrow means higher wind speed, direction of arrow indicates direction with up being north.  Recorded wind speed were about 6 mph with gusts up to 20 mph.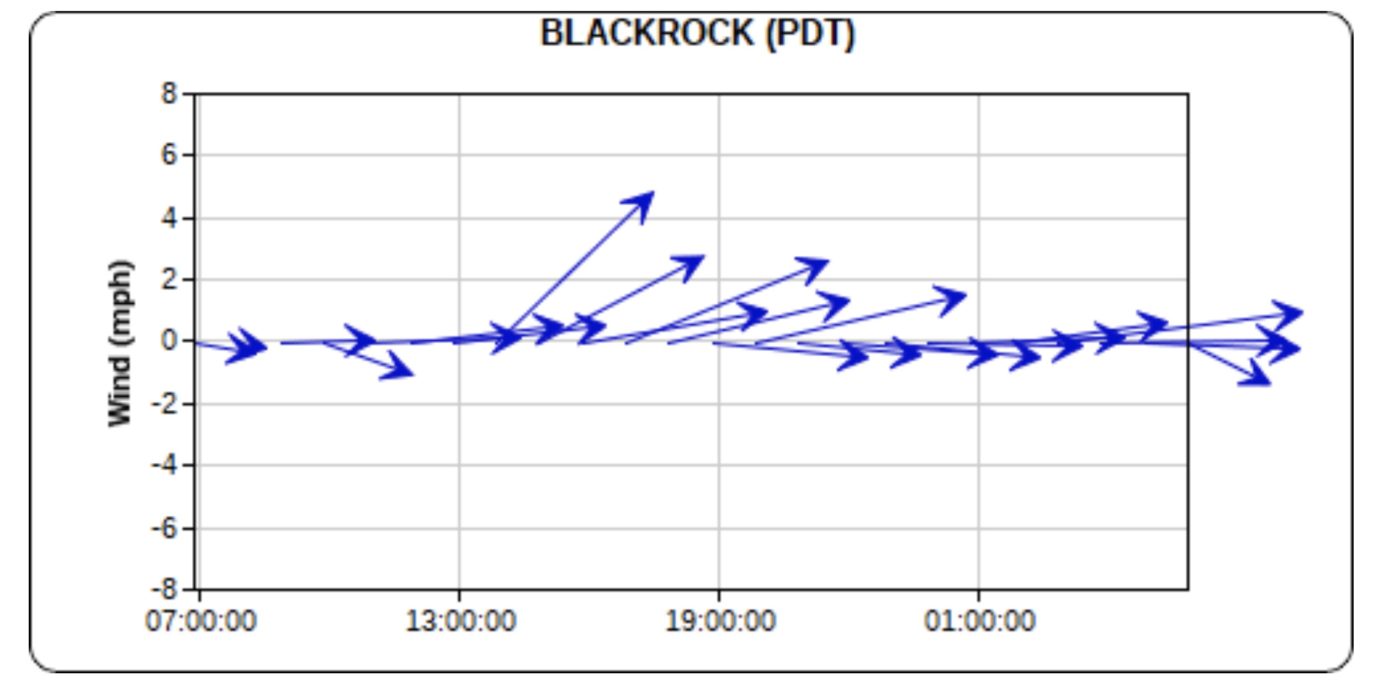 Above:  Wind Vector at Blackrock Raws,  North and east of Johnsondale.
On Slate Mountain, a finger of fire grew west along a ridge towards Peppermint Helibase. If this finger could be held along it's northern flank, it would prevent further fire extension toward the northeast face of Slate Mountian.
A focal point of this fire will be the Black Mountain grove of Giant Sequoia.  This grove has some relatively recent fuel treatment work, consisting of removal of small trees and brush, road side brush and ladder fuel reduction, pile burning and understory broadcast burning.  This work was approved in 2015.  I do not have information on how much was completed or how the area was affected by last year's fires.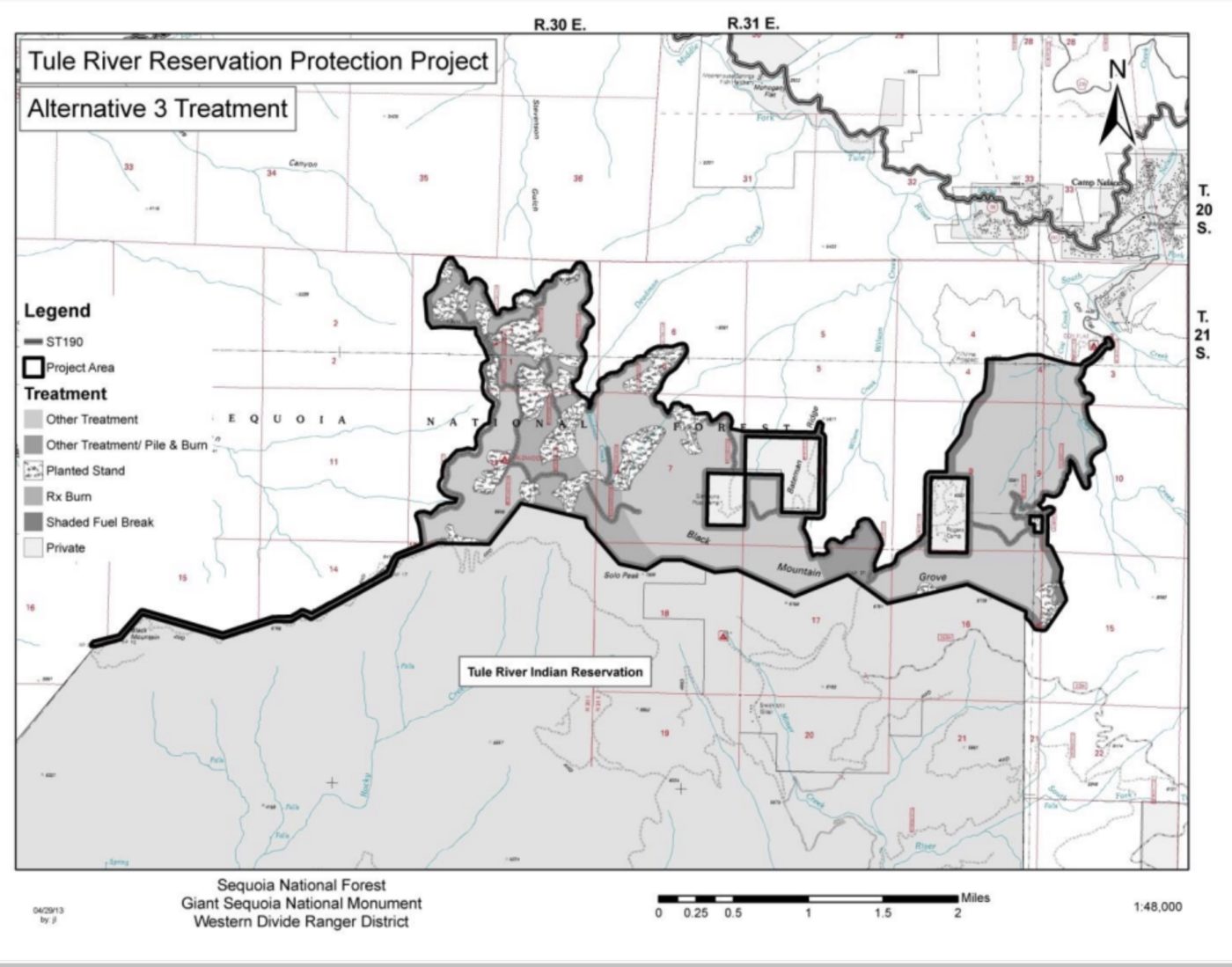 Sources:  https://www.fs.usda.gov/nfs/11558/www/nepa/24409_FSPLT3_2419855.pdf   https://www.fs.usda.gov/nfs/11558/www/nepa/24409_FSPLT3_2285913.pdf

Zone weather discussion for KNP Complex and SQF Windy from NWS Hanford:
".DISCUSSION…

Breezy winds today as a weather systems approaches. On Sunday,

a strong cold front move through the district. This will bring

an increase in winds as well as elevated fire weather concerns

throughout the Sierra and Kern County. Temperatures will trend

down to below seasonal readings through the start of next week

along with higher relative humidities. A warm and dry trend is

expected thereafter for much of next week."