9/20/2021 at 6am

Briefing Map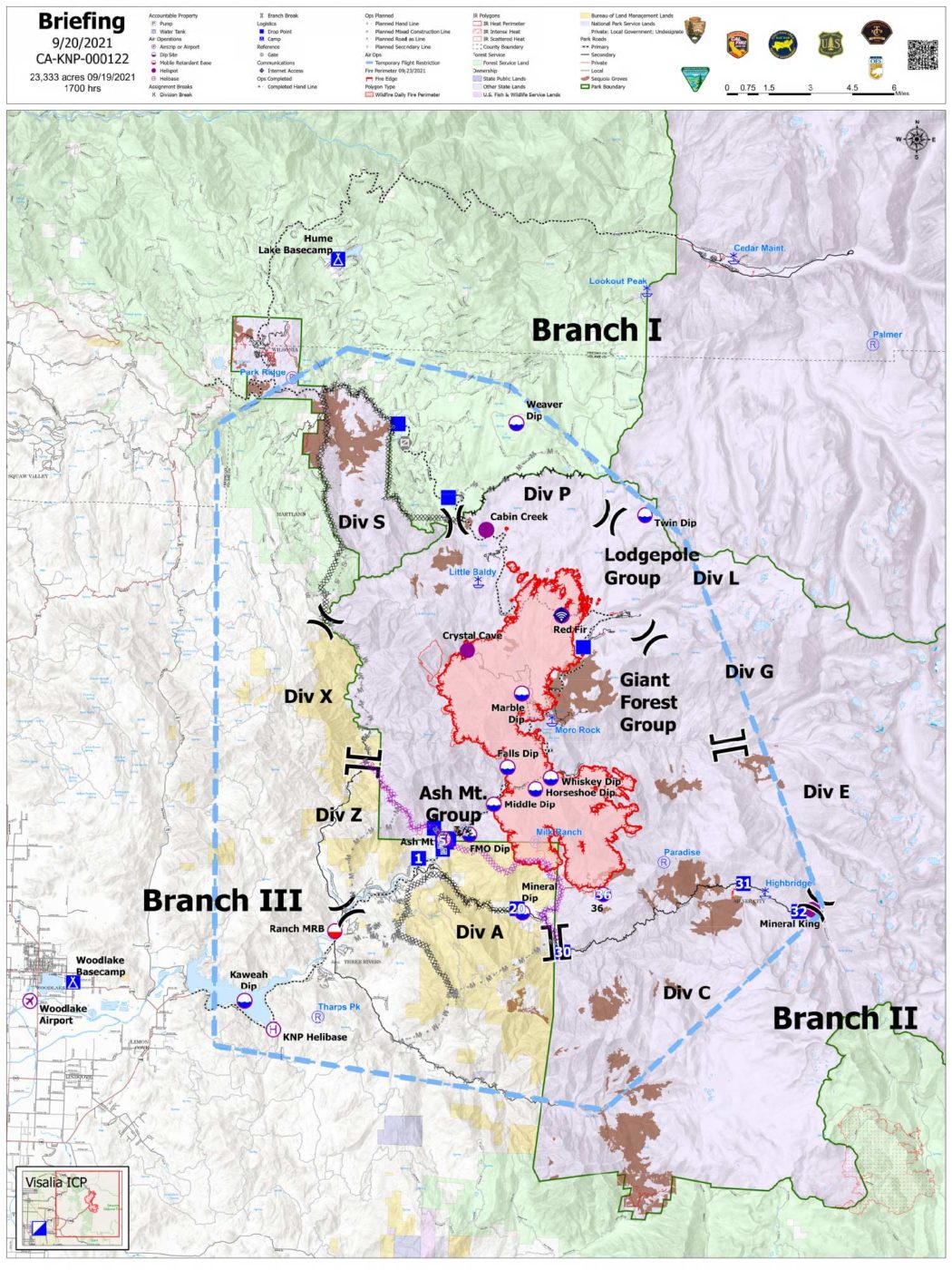 KNP Complex – Maps by Ryan Stephens, with commentary by Chuck Ervin.
Below are maps of the KNP Complex burning in Sequoia National Park made from infrared data captured at 2306PDT (11:06pm) on September 19.
IR Interpreter Alex Pincus log:
Significant growth in the NNW section. Perimeter slightly grew to the north and east with the south showing very little change from last period. Scattered heat is most significant in the north and south with the middle of the fire where Paradise and Colony merged containing mostly isolated heat.
Overview of the KNP Complex Fires looking east.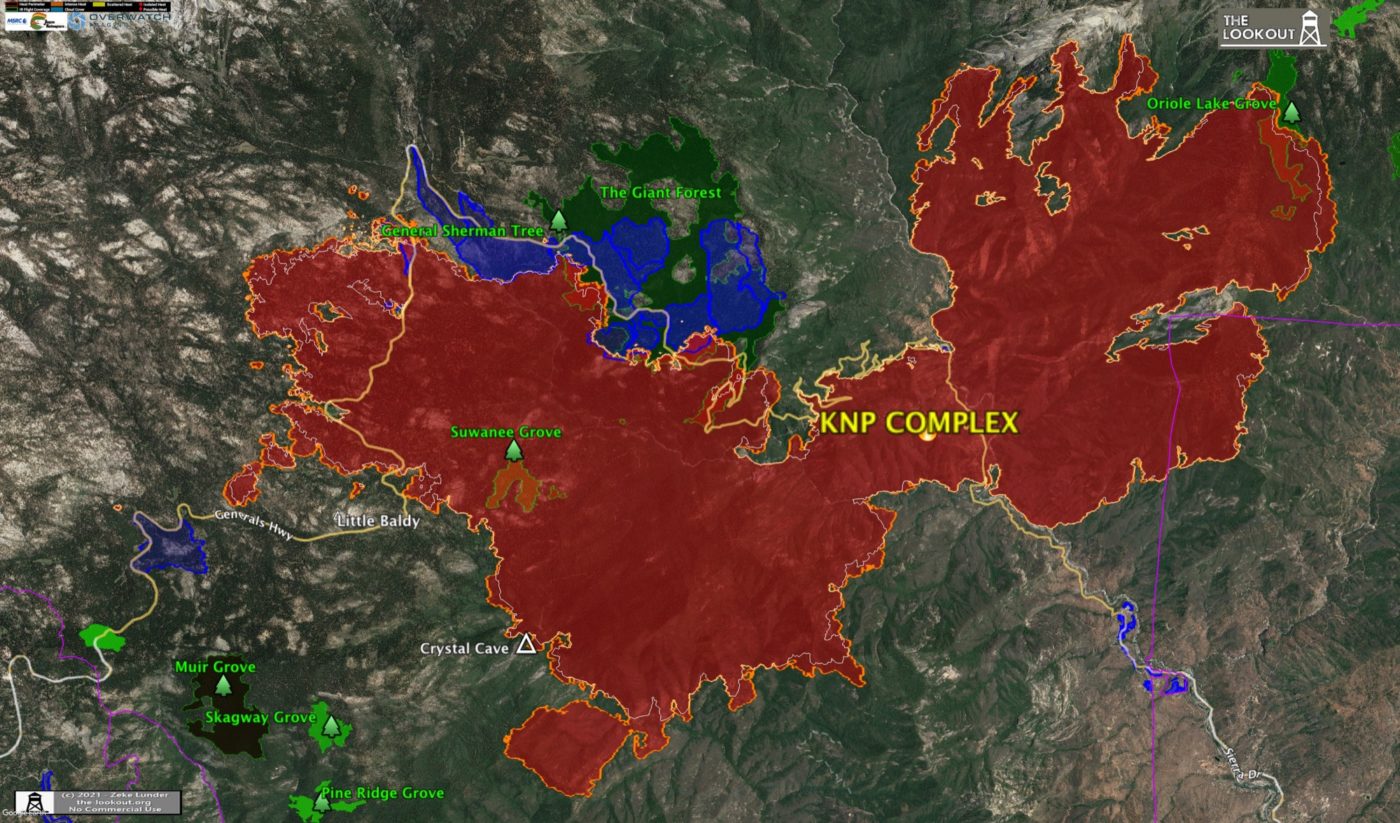 The lion's share of new fire activity was on Yucca Mountain, where fire crossed the Yucca south of Crystal Cave. Looking north at the Yucca Mountain Roadless Area. Map layers: Areas filled in BLUE are prescribed fire treatments (Rx) from the last 10 years, areas filled in GREEN are sequoia groves, and, the PURPLE outlines show the national park boundaries.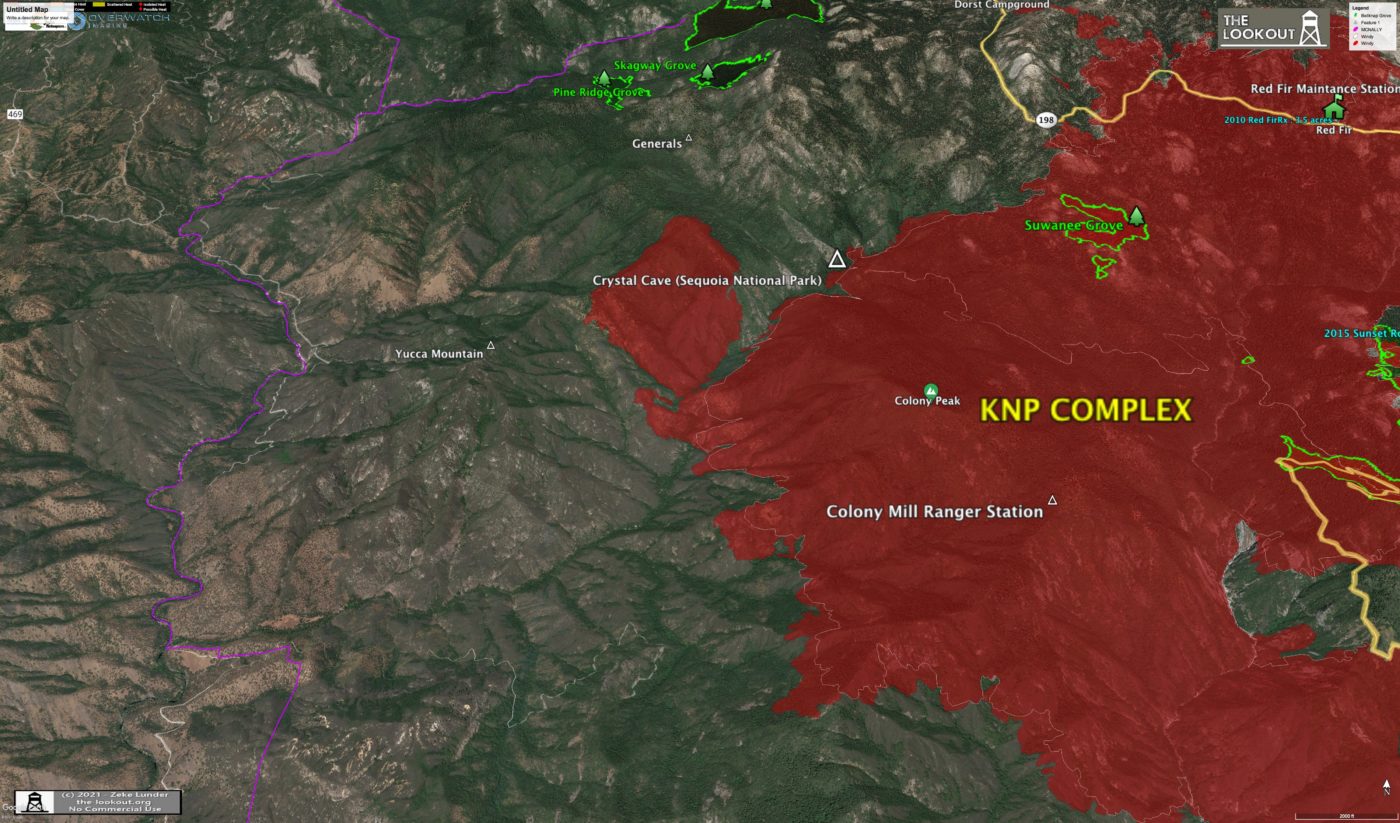 This is big, roadless country, with little containment opportunity until the fire reaches the big box firelines that are being constructed close to the western park boundary.  Below shows this column building on the right side of the image.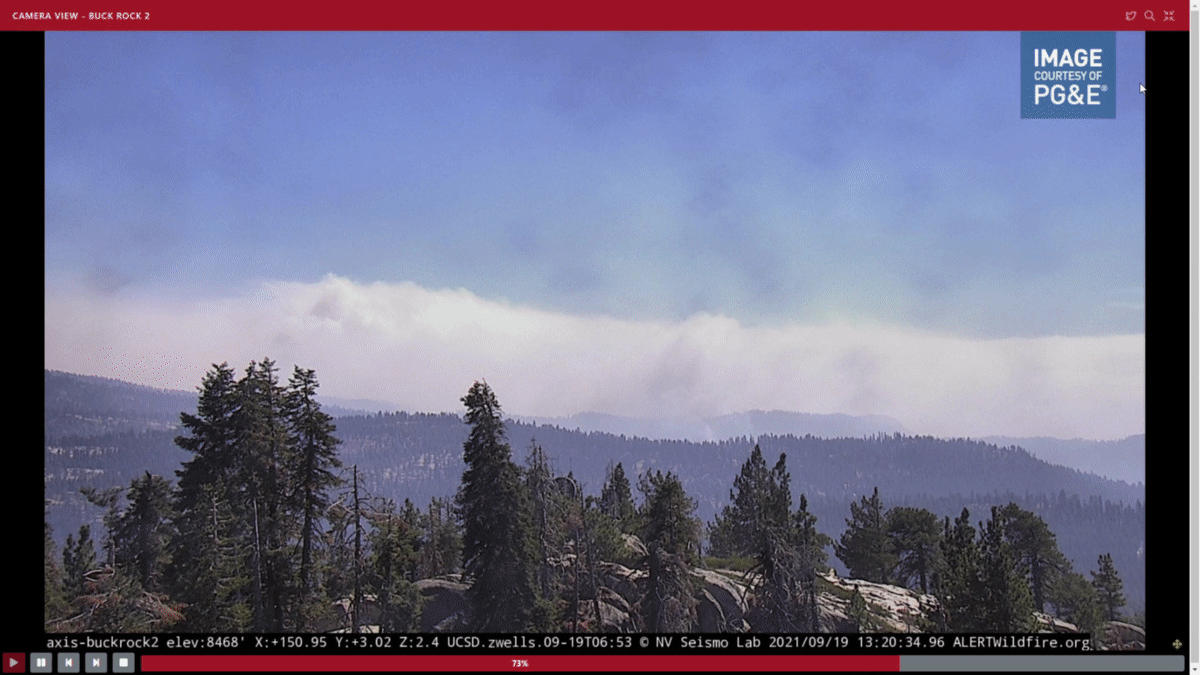 A spot fire north of Little Baldy (Just left of center and closest to above perspective) continues to grow in continuous mixed conifer forest with some blow down and brush patches,  but also areas of rock that will slow that fire.
Looking west at Little Baldy.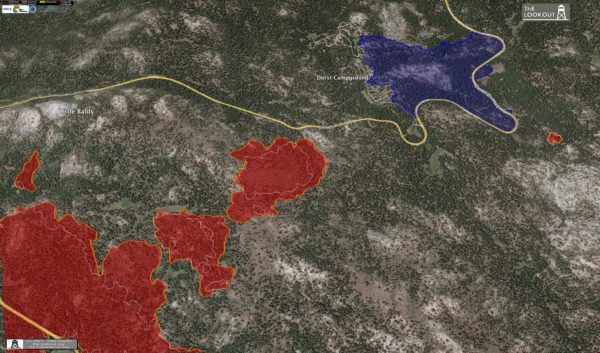 Uphill of the Generals Highway, this spot doesn't represent much of a threat to Dorst Camp, but may follow the Dorst drainage up to higher ground depending on suppression effort.  It will join with the northern head of the fire today, that will likely continue to march up into fuel-barren alpine terrain over the coming days.  The area around Wuksachi Lodge joined this fire front yesterday. Given the suppression effort's focus on point defense, I (Chuck) am optimistic that there were good outcome in structure protection.
A closer look at Wuksachi Lodge.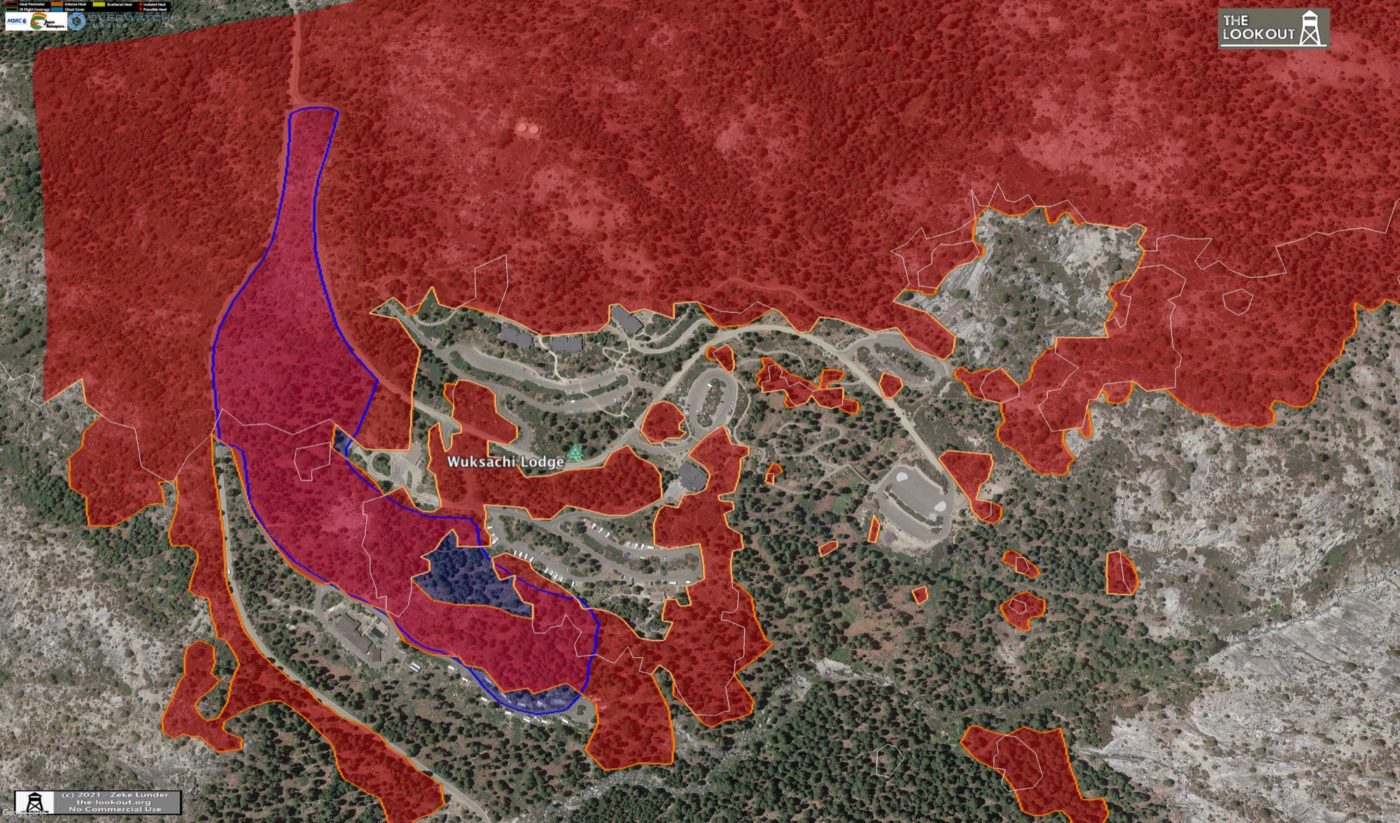 Looking east at the Giant Forest grove. Last night's IR is showing minimal impact of fire within the grove.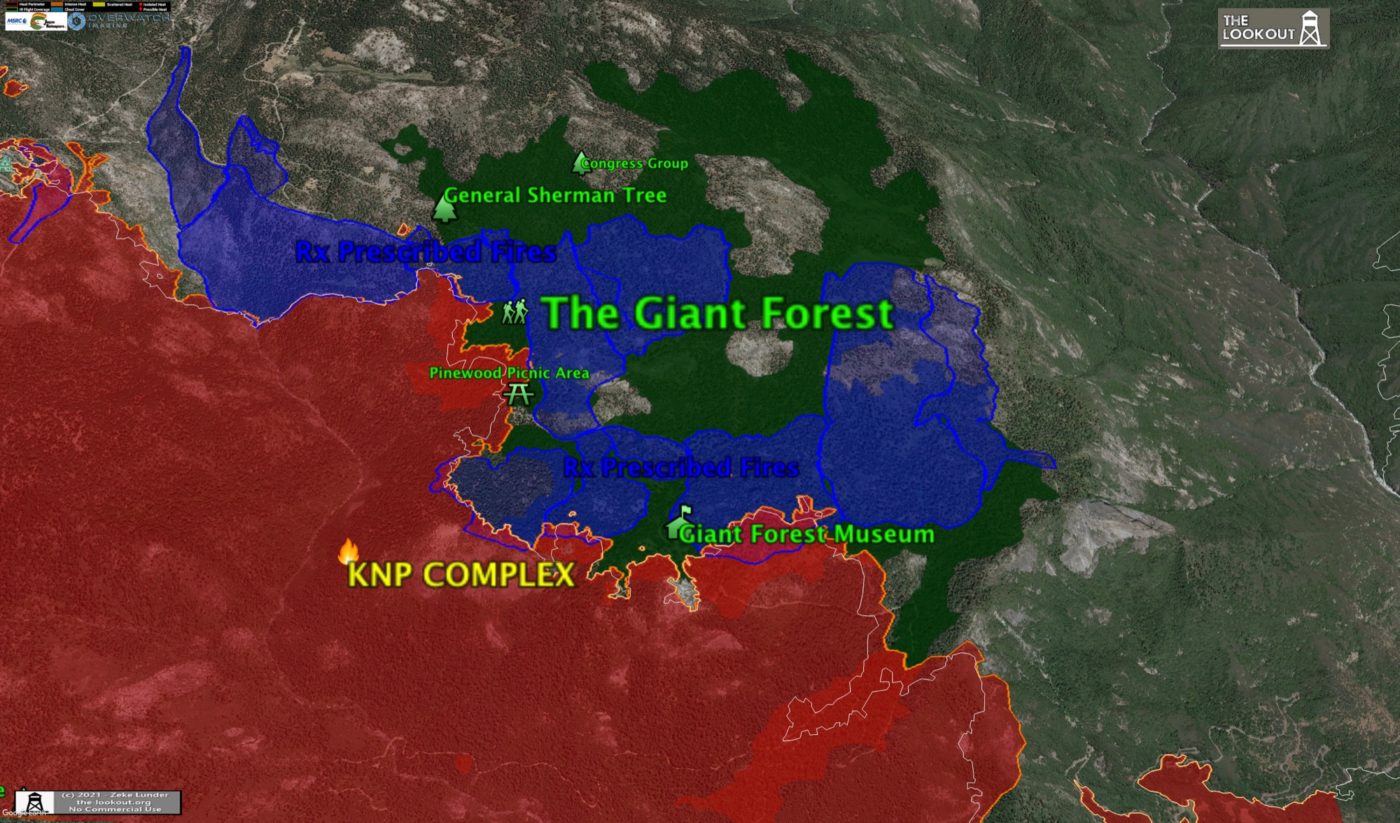 The Paradise side of the fire seems to be cooling off. I (Chuck) don't have enough information to discuss outcomes there, but for now this area is not the focus of concern.

Notes from Ben Munger about Castle Fire and Sequoia Groves:
Generally, the two giant sequoia groves I have explored had fire pass through them during the Castle Fire.  Where slopes were steep below the groves and on the edges, the damage was more severe. Giant Sequoia groves are like cupped hands with the majority of the big trees in the palm of your hand.  On the margins of your hand and your wrist is where more trees were lost especially where mixed conifers have pushed into the groves. Some Giant Sequoias that had broken tops or hollowed out (chimney) centers did not do well.  One unique tree in the Dillonwood Grove that had a large space in the burned out center (with historic names carved into the charred interior) was lost.  Other Giant Sequoia that had developed into chimneys did survive the fire and are now dramatic snag trees.  The chimney effect is the same as the effect of Cat Faces on the bigger trees — access to burnable parts of the tree.
Regeneration, in the form of small light green giant sequoia seedlings, is abundant in the Mountain Home Grove where the Castle Fire reached on September 13, 2020.

SQF Windy Fire – Notes from Ben Munger:
There was a light cloud deck at 7500 feet stretching from Dennison Mountain/Ridge to Slate Mountain at noon.  Late in the afternoon this cloud deck diminished, but still moderated temperatures and caused a strong haze to develop.  Winds, at least around the North Fork of the Tule River on Blue Ridge, were light.
No IR was flown last night, so here is the latest satellite heat data.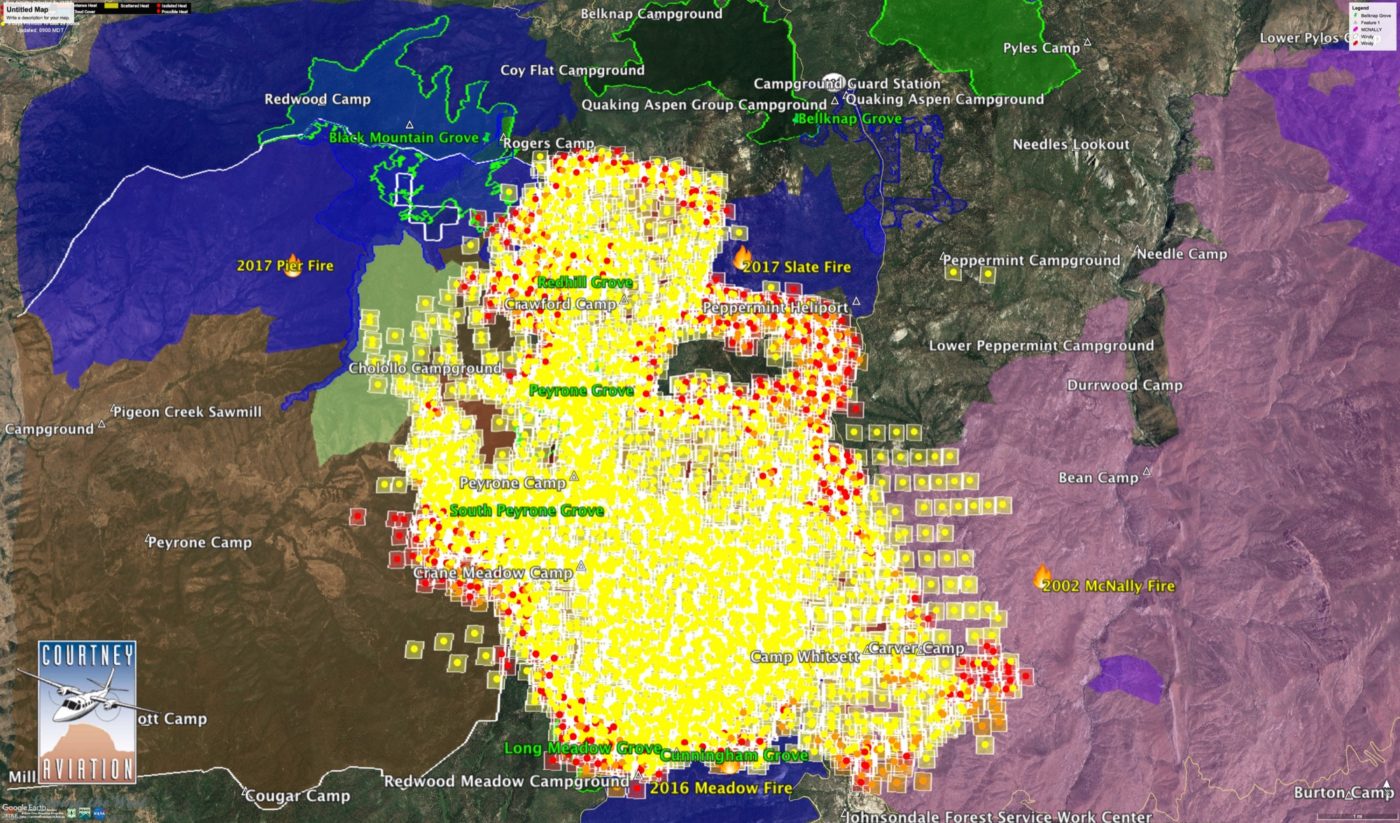 Dozer work at Ponderosa was noted by the owner of the Ponderosa Lodge in preparation for fire reaching their community.
Windy Fire – Weather from Chuck:
Johnsondale RAWS reported sustained west winds of 10 mph and gusts up to 22 mph yesterday afternoon.  High humidities and low temperatures came along with the cold front, fire growth was less aggressive than I had expected.
After a relatively cold and humid day yesterday, we can expect temperatures to recover, then become quite warm as we settle back into typical high pressure conditions in the central valley.
From NWS Hanford Fire Zone Forecast:
 "Strong, gusty west to northwest winds are likely this afternoon

and this evening in the Sierra Nevada, Tehachapi mountains, and

Mojave Desert slopes. A warming trend is expected Monday and

Tuesday. By Tuesday afternoon, high temperatures will be around

ten degrees above normal for this time of year"

An Inside Perspective on the KNP Complex Fires.
Someone who was directly involved in the initial phases of the KNP Complex sent us this narrative:
These fires were ignited on the night of September 9. Several other fires also started regionally, including the SQF-Windy, which had a much bigger response but is about in the same status as other fires within the parks. On the morning of September 10 park fire personnel were out and about looking for smoke, including recon of the western slope by helicopter.
The one that immediately caught our attention was the Colony at approximately 20 acres atop a 6,000 feet ridge in mixed conifer and putting off smoke visible from the main highway. It was about 0.5 miles from a paved secondary road. We had few resources to send with all of the other ignitions regionally. A cover engine and the park's wildland fire module/fuels crew went in to see what could be done. The report wasn't encouraging: despite about 1/4 inch of rain, there were six foot flame lengths active on the entire perimeter, no natural barriers to use, and it was thick with 5-10 year old giant snags dating from the last drought. We got tankers assigned and tried to box it in with retardant while looking for safe places to work. The crews tried plumbing an adjacent trail to keep it from backing down to the south. but had to pull back when they couldn't hold it to the trail.
The second fire, Paradise, was reported later that morning burning midslope at 3,800 feet in a mosaic of chaparral, oak, and grass. This was on the far side of the river from the road, with no landing zones (LZ). Heli-rappelers would have needed to cut an LZ in with giant chamise burning right next door. We assigned the local Type 3 helicopter to bucket work in the hopes of drowning the thing before it could work up a head of steam.
A third fire on the park boundary at much higher elevation, the Cabin/Stony, was corralled quickly at less than two acres by adjacent national forest resources.
We ordered crews, engines, and aviation hoping to corral the two more worrisome fires, but were never able to find a way to safely go direct. With crews in short supply, we lacked the power to keep the Colony confined to the ridgetop. Even if we had a bunch of shot crews and such on day one, there was no safe places to engage the Paradise. Water and retardant was never very effective on the Colony, and even when we thought we had the Paradise drowned by bucket work, it would spring back to life at night and resume growth. It backed down to the river and spotted across around midnight. Then it took out a major communication hub for the park's radio system. Next it burned across the road that provided access to the higher elevations of the park and what would become the northern part of the complex. What had previously been a 45-60 minute drive was now a three-hour drive from ICP.
These fires almost immediately exceeded the capacity of the park's firefighting overhead and Type 3 IMT. Many of the park's fire staff were out on assignment or on mandatory days off. On the operations side, we had a great, experienced IC who was rightfully prioritizing safety, especially as single resources arrived in dribs and drabs from out of park, but he was wearing many hats. The parks have a small logistical capability geared towards planned fuels work and Type 4 incidents in remote backcountry which was augmented by willing but inexperienced non-fire staff. Local (non-fire) GIS and finance staff agreed to step in and try to support the fire operations until a team could be transitioned which we thought might be a couple days. As you know, teams are in short supply and we were told a Type 2 team would be able to brief on September 14. During that wait, the complexity grew to a point where a Type 1 team was ordered but they would not be able to brief until September 15. Rather than go through two delegations and transitions, some of the Type 2 folks helped augment our capacity for a couple days until the Type 1 team took over on September 16. That team inherited a Type 1 incident that had been running with a Type 3 organization for almost a week, which meant that there were a lot of things that were not up to normal standards when you have dozens of engines and a handful of crews.
To answer your questions:
What's up with catering?
The first resources to respond were told that we were only able to provide MREs and water and other basics until we could get that function up and running. We were able to get some sack lunches starting day two, but once the road was cut off we struggled to do even that. There have been no caterers available. Every team (3, helpers from 2, and the type 1 team) have requested them. Our ad-hoc logistic group worked every angle they could think of to try to get crews fresh, if not hot, food. Efforts to use the lodge staff for crews on the north side of the fire broke down because of evacuations and supply chain disruptions. The local community stepped up and started feeding crews that were on the south/lower side of the fire but were unable to set the same up for resources on the north side. The lack of food-service labor and difficulty providing food in remote locations is real, and when the team was operating on a shoestring there was only so much effort that could be spared from the fire fight.
Why wrap the trees?
The largest trees in the world have names. They are more than just part of a population — they are iconic. When about 10 percent of the monarchs died last year under similar drought conditions, we had to re-evaluate the relationship between fire and the sequoias. Was it acceptable to lose another 10 percent? The parks decided "no," and set about to find ways to prevent the loss of 1000-2000-year-old individuals. With the fire growing, the park's natural resources staff used the tools that they had available. Rake out duff and litter from catfaces? Yep. Cut and scatter brush and saplings? Yep. Treat the 10 most iconic individual trees like we would a tumble-down historic cabin or rock art site? Why not? Whether this provides any real protection we're about to find out, but it came from a need to do something fast, and it didn't take firefighters away from what they were doing. Those firefighters are currently putting fire on the ground to provide even more protection for those trees.
We appreciate all of the help we are getting from both anonymous and named contributors. If you'd like to share your perspective on how fires are unfolding in areas you know well, email us. All contacts will be kept confidential.
The Lookout is user-supported. If you find our work helpful or interesting, please consider setting up a subscription donation via PayPal at the link below. This funding helps us pay for mapping help, gas for fieldwork, web hosting, monthly internet, and other costs of doing this work. Thanks to everyone who has helped us out so far!