Stay informed and keep out of trouble!
As a community-focused news source, our top priority is to keep our readers informed. While most of you know of The Lookout through our coverage of wildfires, we also have decades of professional mapping experience on water-related project here in California, and a large library of mapping data for the State's water and flood management infrastructure.
With recent weather forecasts predicting heavy rainfall and potential flood conditions, we will sharing updates here on The Lookout and retweeting relevant information from local authorities and weather experts. Our Twitter feeds are the best place to keep up on our most current intel. www.twitter.com/wildland_zko and www.twitter.com/lookout_ryan.
You can help support The Lookout by letting people know about The Lookout and sharing our posts on social media. If you find our coverage helpful, hit the donate button and throw some dollars our way or consider becoming a monthly subscriber.
Thank you, and stay safe out there!
We have been compiling publicly-available GIS mapping data for flood control and water management infrastructure for use in our coverage. Here is an example of some of the data we are using at The Lookout.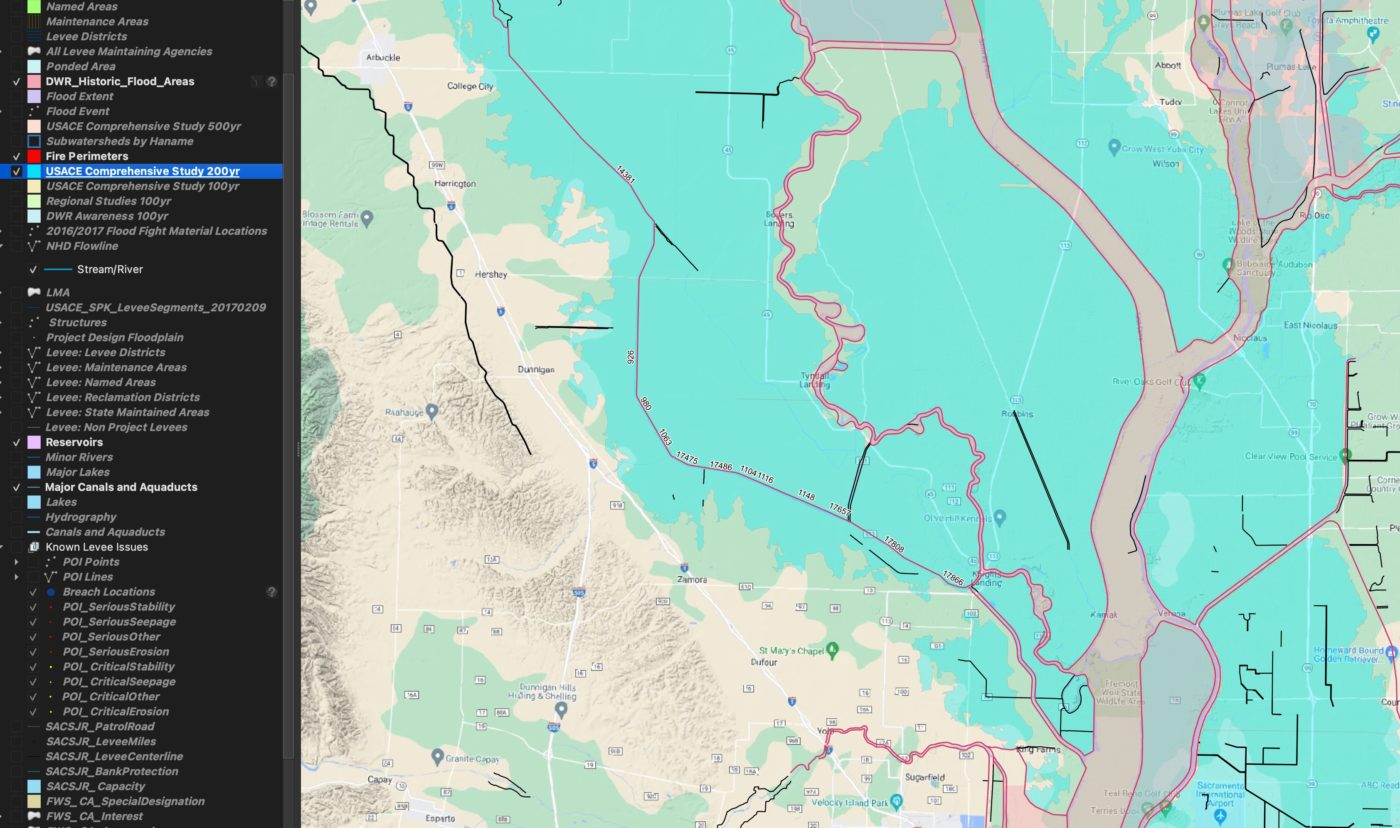 Weather update for week of January 2, 2023:
Forecasters are predicting consecutive atmospheric rivers to hit the state over the next two weeks. This string of storms could lead to significant rainfall and widespread flooding.
This is a developing situation and we want to make sure our followers are informed and prepared for the possibility of widespread flooding. We will be monitoring flood conditions and updating our website and social media with information to help keep you informed.
Impactful weather continues this week.

Quick-hitting system arrives later today/tonight with generally light rain, light-moderate snow.

Strong system arrives Wed-Thu with strong winds, heavy rain & mountain snow.

Late week and beyond…unsettled weather likely continues. #CAwx pic.twitter.com/BFGYYuUkPz

— NWS Sacramento (@NWSSacramento) January 2, 2023
My main concern, right now, is portion of this that will fall rather quickly over 6-8 hour period on Wed as another strong storm makes landfall. There will be pretty high potential for flooding, including some serious/life-threatening flooding, across broad swath of NorCal. #CAwx https://t.co/5M0zYmYkbO

— Daniel Swain (@Weather_West) January 1, 2023
California flood control systems are being put to the test:
In the recent days, we've seen levee breaches and flooding in some areas of California.
Cal OES continues to work around the clock to actively address storm impacts across the state including the levee break & flooding in Southern Sacramento County.

We continue to leverage advanced analytics from @FIRIS & predictive services to protect local communities. pic.twitter.com/yx0l6OBrGX

— California Governor's Office of Emergency Services (@Cal_OES) January 2, 2023
Flood Maps for Chico, California:
Our founder, Zeke Lunder, posted a series of maps on his twitter looking at the flood control system in his hometown of Chico. Read the whole thread here:
Ahead of a good storm, here's a diagram of the flood control system which protects Chico, where I live, from major storm flows on Big Chico Creek/other foothill creeks. Starting at 'Five Mile' Recreation area, the Sycamore/Mud Creek Diversion (orange) wraps the Chico Urban Area. pic.twitter.com/3qUsQsWBta

— Zeke Lunder ~ The Lookout (@wildland_zko) December 31, 2022
Ahead of a good storm, here's a diagram of the flood control system which protects Chico, where I live, from major storm flows on Big Chico Creek/other foothill creeks. Starting at 'Five Mile' Recreation area, the Sycamore/Mud Creek Diversion (orange) wraps the Chico Urban Area. pic.twitter.com/3qUsQsWBta

— Zeke Lunder ~ The Lookout (@wildland_zko) December 31, 2022
The system is designed to limit flows in Chico Creek, thru Lower Bidwell Park, and Lindo Channel to prevent them from flooding the core of the City. This figure shows the maximum volume each dam at 5-Mile allows to pass. The bulk of the flow is shunted into Sycamore Diversion. pic.twitter.com/BCh5IkTatf

— Zeke Lunder ~ The Lookout (@wildland_zko) December 31, 2022
Here is a view of the major control structures around the 5-Mile/Hooker Oak Park area. The Five Mile Diversion limits Big Chico Creek to 1,500 CFS thru Lower Park, and the Lindo Channel Dam will pass 6,000 CFS. The rest goes over the 'Graffiti Dam' into Sycamore Diversion. pic.twitter.com/o872MstZ3a

— Zeke Lunder ~ The Lookout (@wildland_zko) December 31, 2022
The capacity of the system shown on the maps I have is 14,500 CFS. On December 2, 2012 we had a good, juicy storm and Big Chico Creek hit 8,000 CFS before the gage was (briefly) too high to record. You can track flows just upstream of 5-Mile on this gage. https://t.co/xits42jikR pic.twitter.com/82j0XuQr5F

— Zeke Lunder ~ The Lookout (@wildland_zko) December 31, 2022
During the 2012 storm, there was serious erosion on the levees adjacent to the 5-Mile diversion dam. If the levees at 5-mile are ever overtopped, most of Chico east of Highway 99 (including my home) is in the floodplain. Map from: https://t.co/82MyhMstFU pic.twitter.com/e8OyMgPhlD

— Zeke Lunder ~ The Lookout (@wildland_zko) December 31, 2022
Sycamore Creek Diversion is leveed in some areas, and in others it is just a deep gully, with crazy erosion going on. My kids and I call it the 'Mini Grand Canyon'. A soil scientist friend says the engineers thought the landform was more stable when they designed the system. pic.twitter.com/IMCKEGlaY1

— Zeke Lunder ~ The Lookout (@wildland_zko) December 31, 2022
Sycamore Diversion runs right behind a bunch of new development on the eastern edge of Chico. We'll head out there tomorrow to grab some photos if the flows come up. This system was designed for a previous climate era. There are thousands of similar projects across the USA. pic.twitter.com/dLtdfXVh6g

— Zeke Lunder ~ The Lookout (@wildland_zko) December 31, 2022
On the southeast side of Chico, the Little Chico Creek Diversion canal shunts high flows from Little Chico Creek into Butte Creek, near Highway 99. This protects the south area of downtown, and the Barber Neighborhood, which flooded frequently before the project was built. pic.twitter.com/jfAVlakIEs

— Zeke Lunder ~ The Lookout (@wildland_zko) December 31, 2022