All detailed images are from IR flight at midnight last night 8/9/2021. White line shows 24 hours of fire spread.
Other than the big blowup on the east side of the fire, the rest of the Dixie Fire didn't move a lot yesterday or overnight. I got some cleaner IR data captured last night at midnight, and figured out a couple shortcuts to make these maps quicker, so this morning's update is more of a image-dump, with details for areas people have been asking about. The fire was burning too intensely on the east side, in Lights Creek at the time the IR was captured, so unfortunately the best we have for that part of the fire is satellite heat intel from about 3am. I didn't think the fire was moving toward Janesville when I went to bed, but as it ran up out of Lights Creek toward Rattlesnake Peak, it also ran about 5  miles up Lights Creek Canyon. This puts the head about as far east as Lone Rock, where the rest of the fire was yesterday.
The 2007 Moonlight Fire is in blue, below. 3 am satellite heat showed the fire was running into areas of industrial timberlands (light blue) that were salvage logged after Moonlight Fire and replanted. These areas have a lot less fuel loading in them than areas which were not cleared and replanted. The fire has still been spreading in these areas in past few days, but not as intensely. This may buy some advantages today. See my post from last night for photos of what this looked like about 3 years after the Moonlight Fire.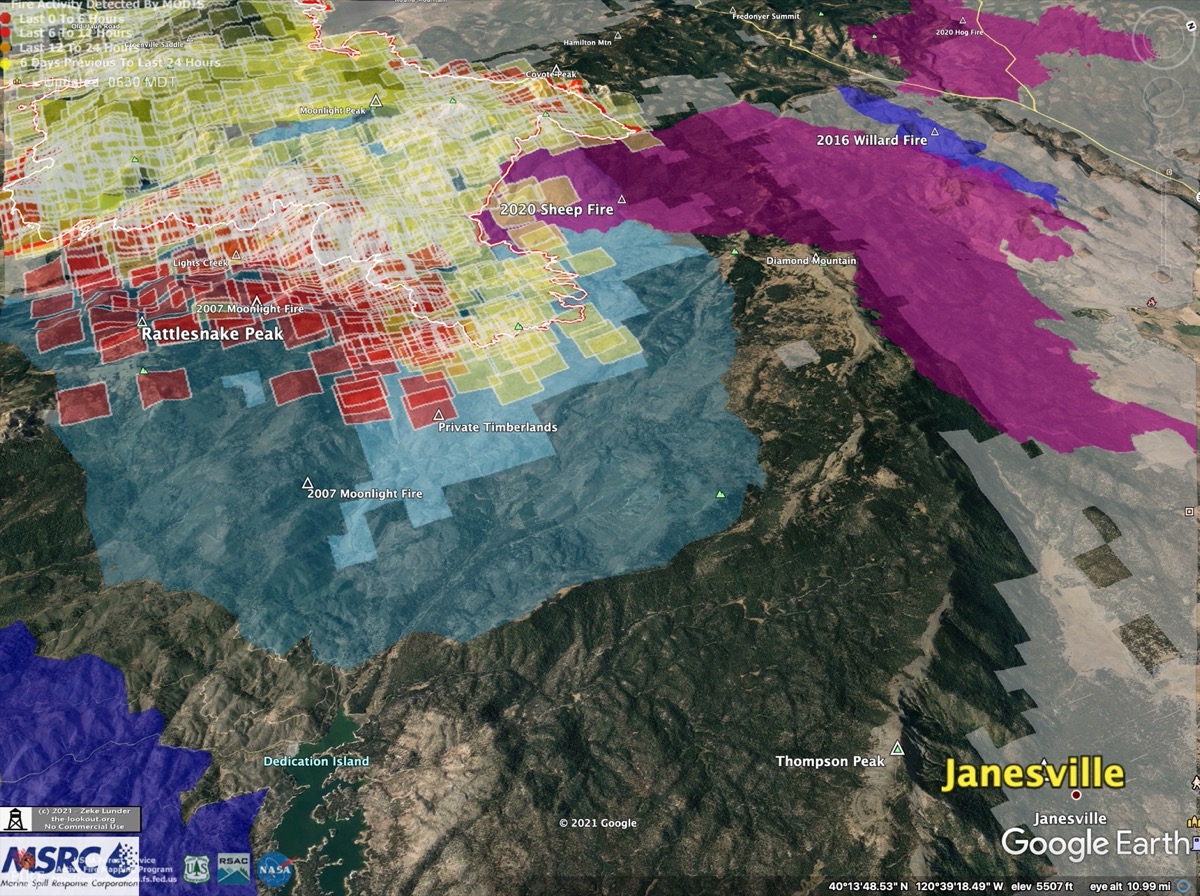 This view looks west from Janesville. Fire was 8-9 miles from Janesville at 3 am. Satellite heat signatures from 3 am, 8/10/2021 may be off by up to a mile, especially outlying or widely spaced ones. All images have a compass in upper-right.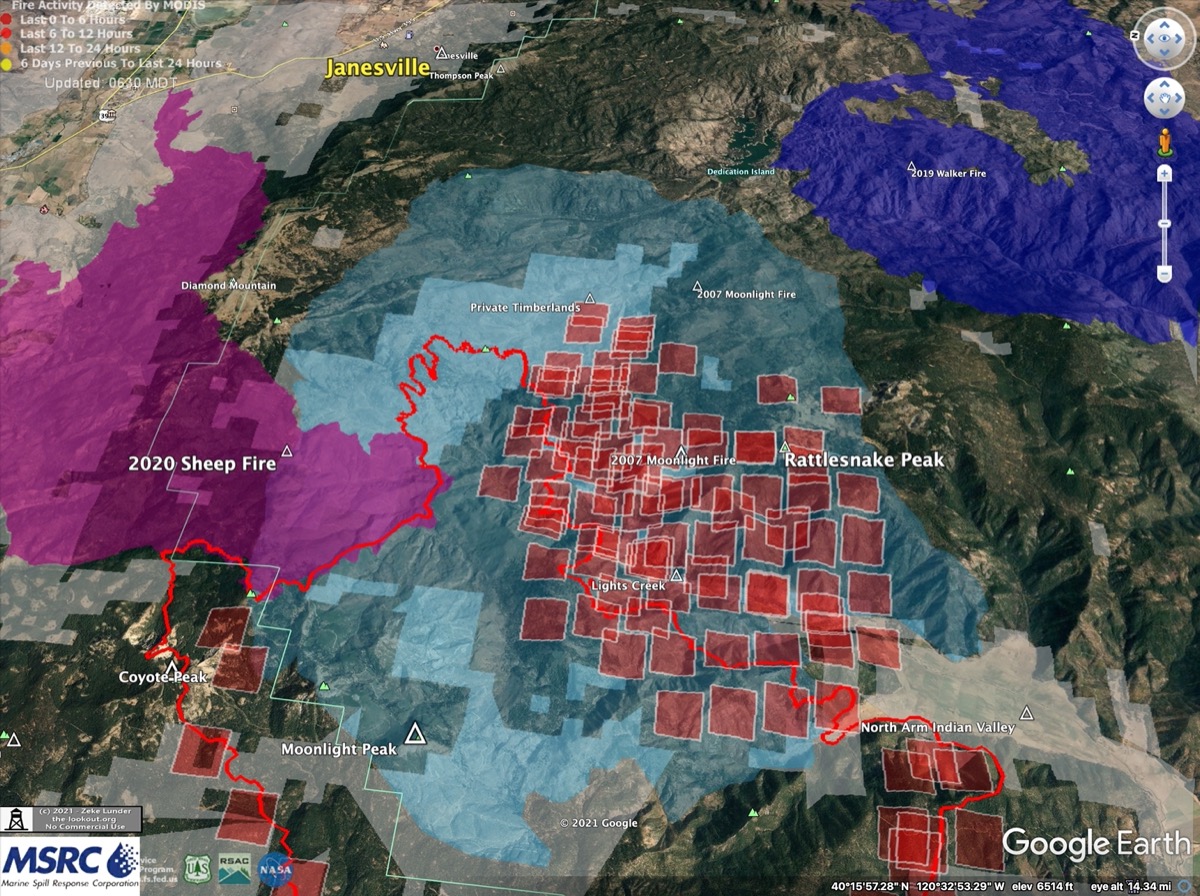 Last night's big run pushed aggressively NE up Lights Creek, all within the 2007 Moonlight Burn (blue). Light blue is industrial timberland.
Next image looks south over Willard Creek, south of Highway 36, about 9 miles west of Susanville. Purple is 2020 Sheep Fire. The white line shows 24 hour spread. There is still plenty of heat in this flank, and a strong SW wind could push it north. This area is kind of tucked in behind a ridge and somewhat sheltered from winds, but the spur ridge in the foreground is exposed. One concern is the clearcuts in foreground have slash in them and are susceptible to turning embers into 20 acre spot fires in a hurry.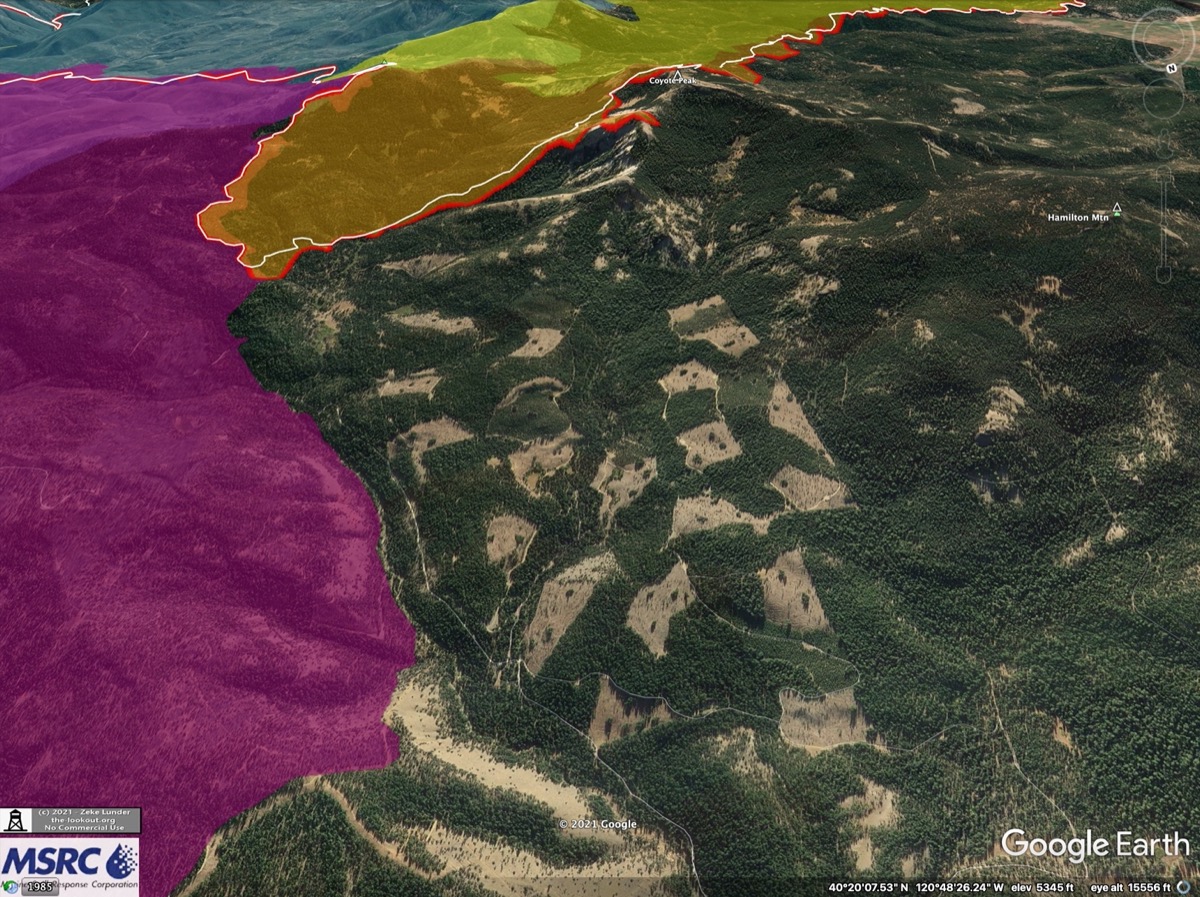 Another view of this part of the fire. Looking east over Fredonyer Summit.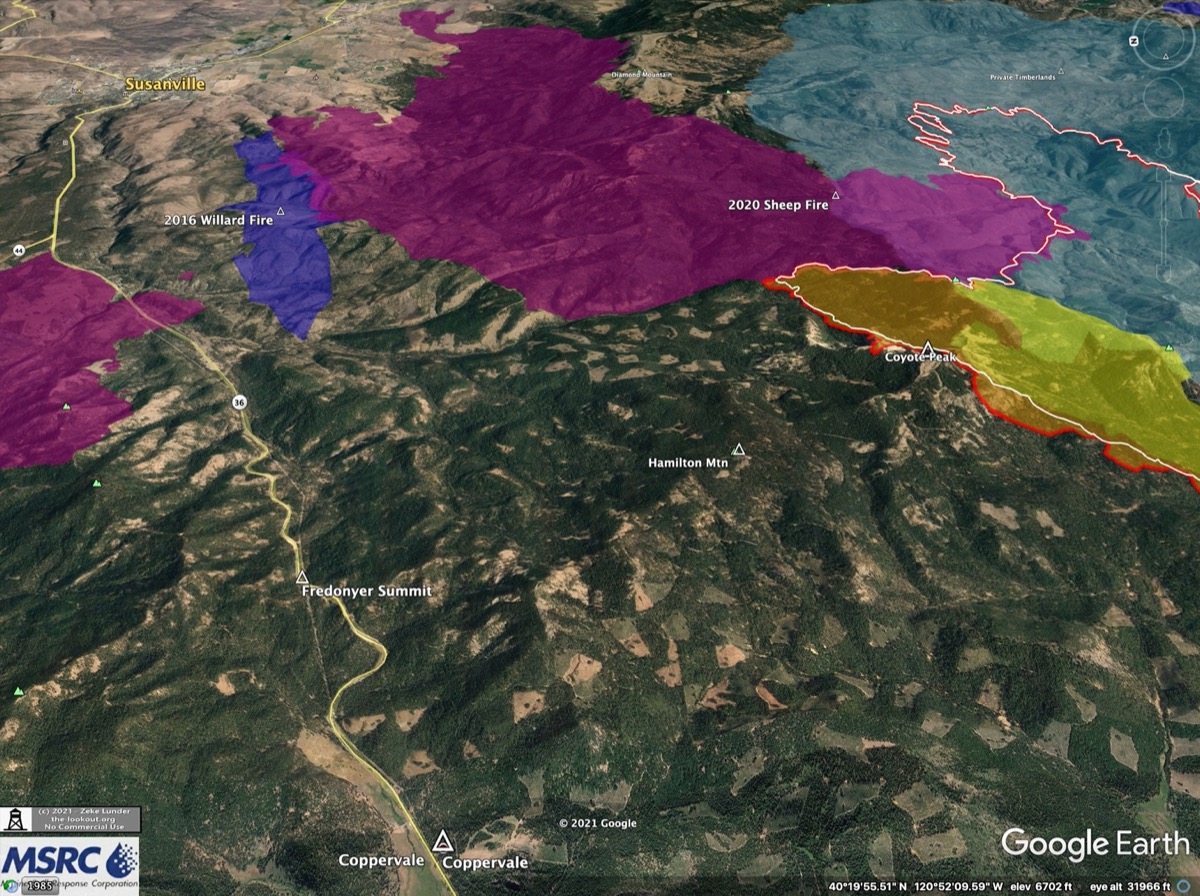 Here is a view east over Westwood. The fire continues to move slowly downhill off of Keddie Ridge. White line shows 24 hour growth. No spread was mapped on East Shore portion of the perimeter.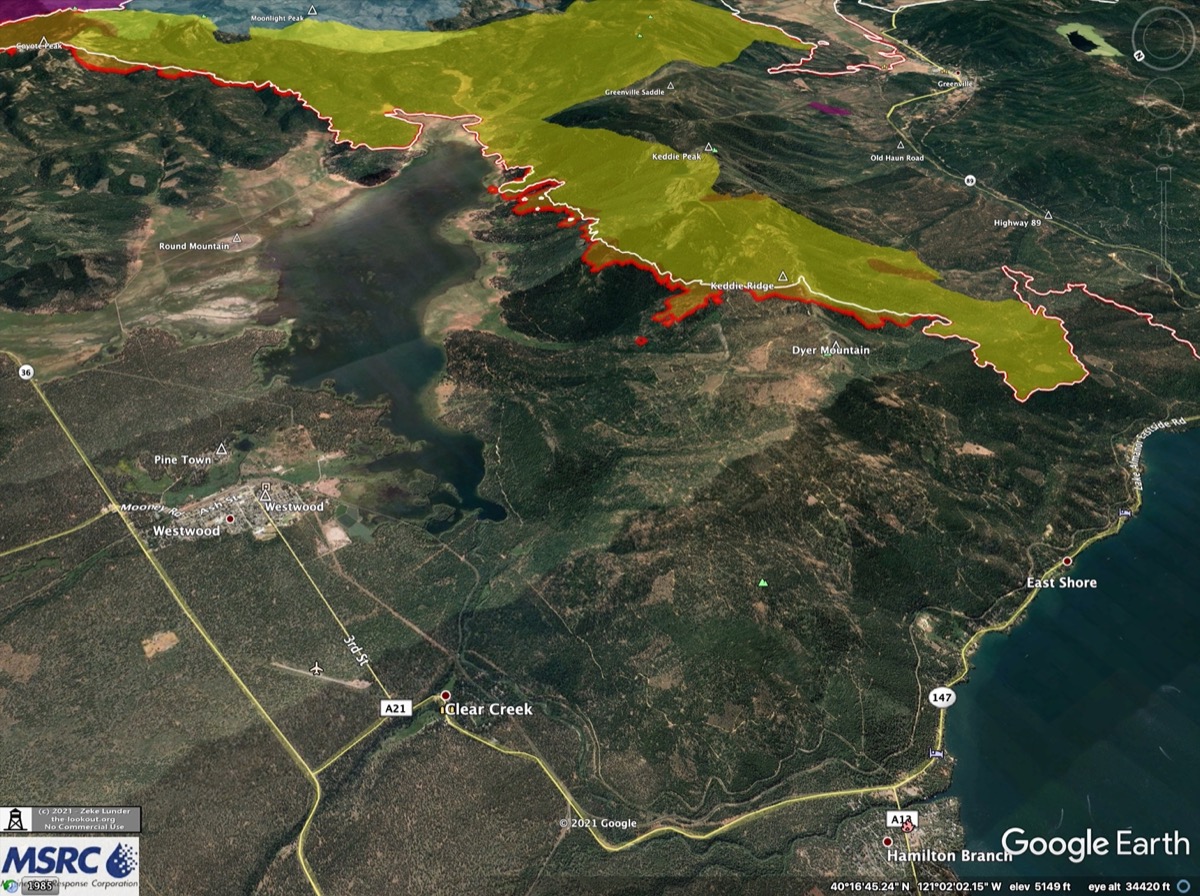 Looking NE over Westwood and Clear Creek. The fire has had a few fingers of spread toward the NE. You can see the firing operation on A-21 near Swain Mountain Snow Park. It looks like the southern edge of the firing operation will turn a corner toward the west and be tied into roads and dozer lines back toward Rock Creek, near Highway 36 icon on map. The firing operation appears to have held thru yesterday afternoon. This is a huge win so far.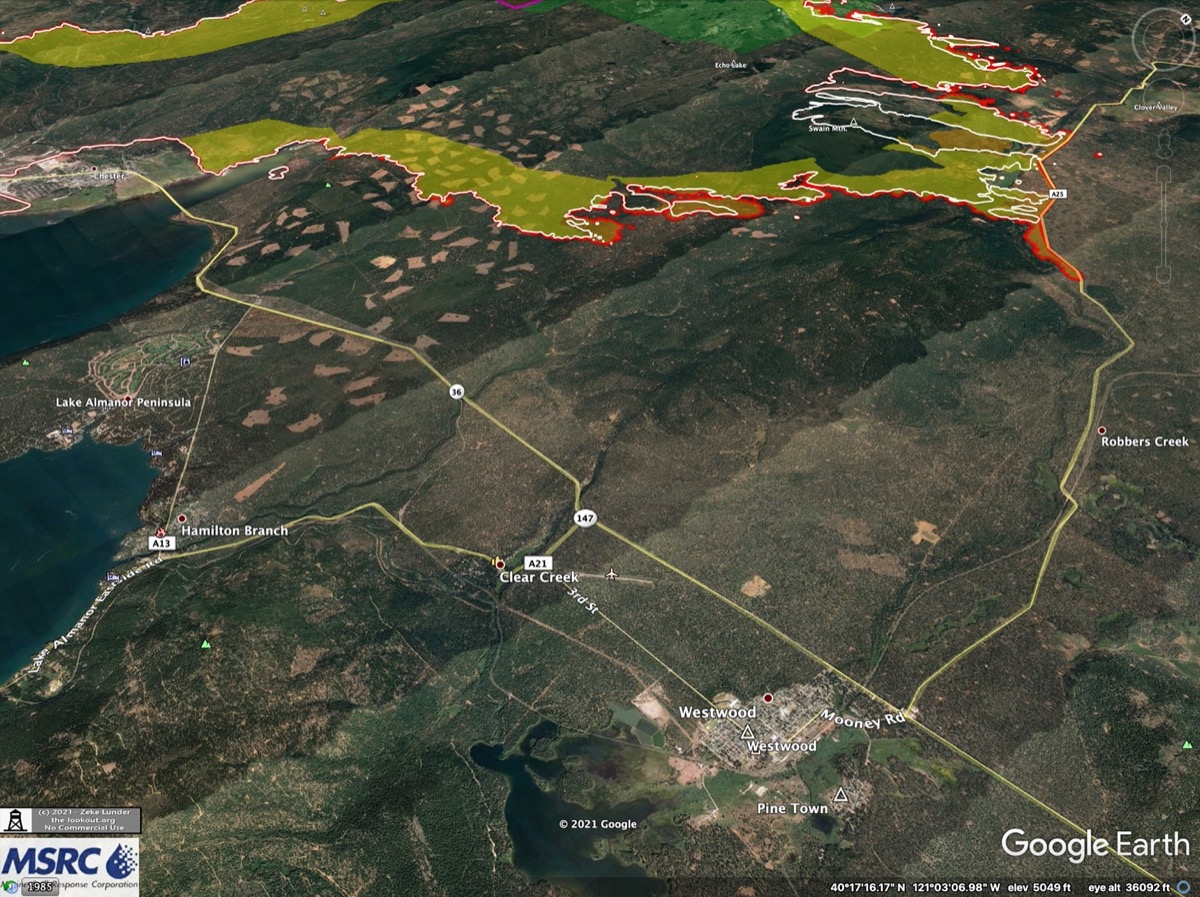 Close up of firing operations on A-21 – IR from midnight, 8/9/2021.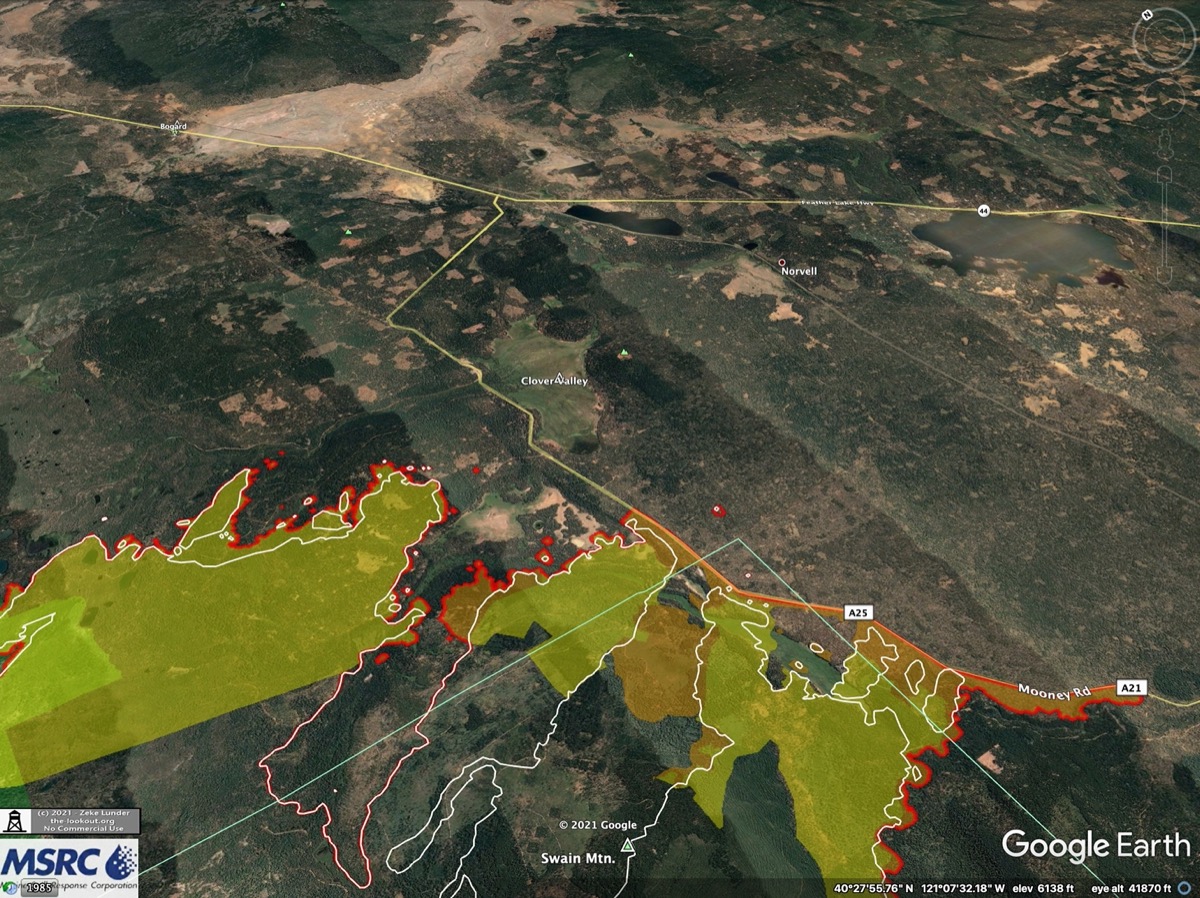 Far northern edge of fire, looking SW over Silver Lake. There are lots of cabins on long-term US Forest Service leases at Silver Lake. My dad worked on them in summers and autumn when I was in 6th and 7th grade, so I got to spend a lot of time exploring up there. Green is Caribou Wilderness. This area gets a LOT of snow, so the duff layer is extremely compact and rates of surface fire spread are very slow. Fire appears to be fairly hung up in the alpine vegetation and rock to the west, hasn't moved much in past several days.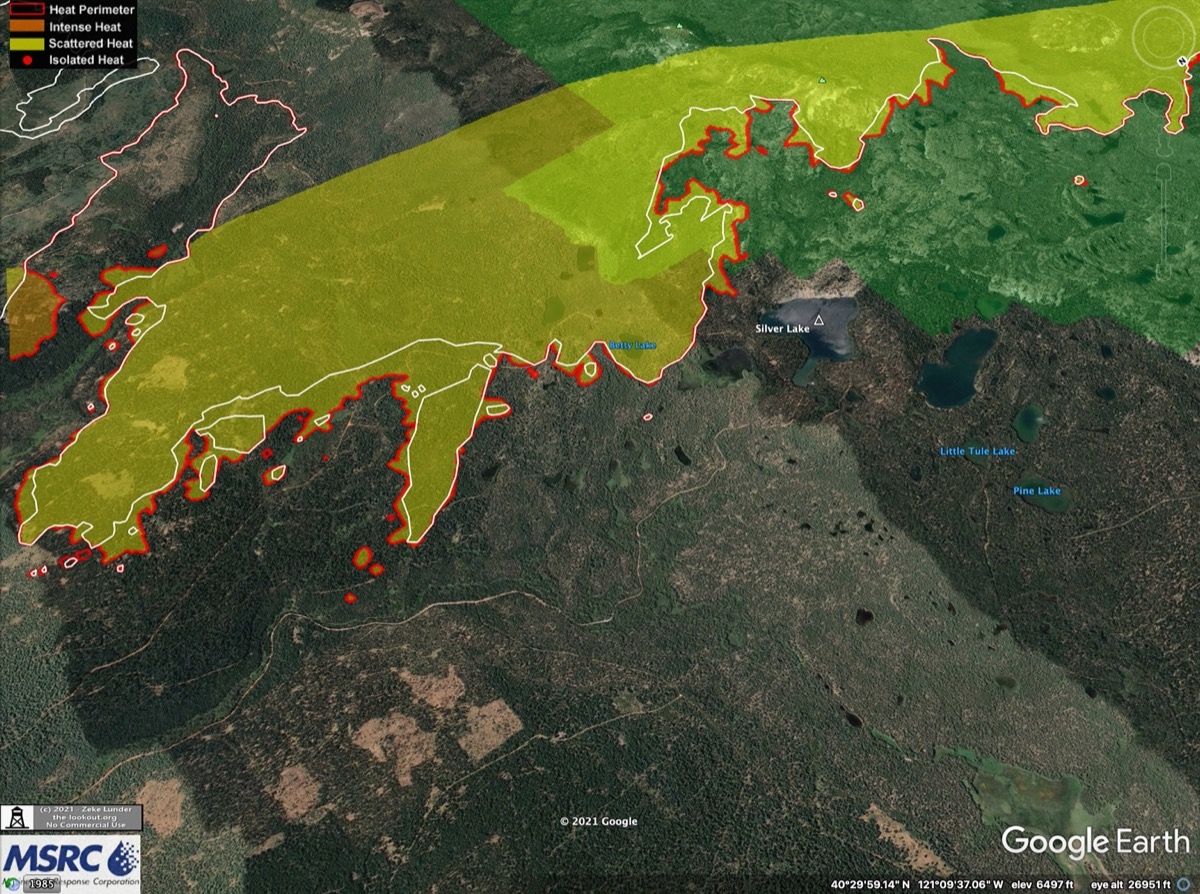 There was very minor spread on most of the west flank of the fire in past 24 hours.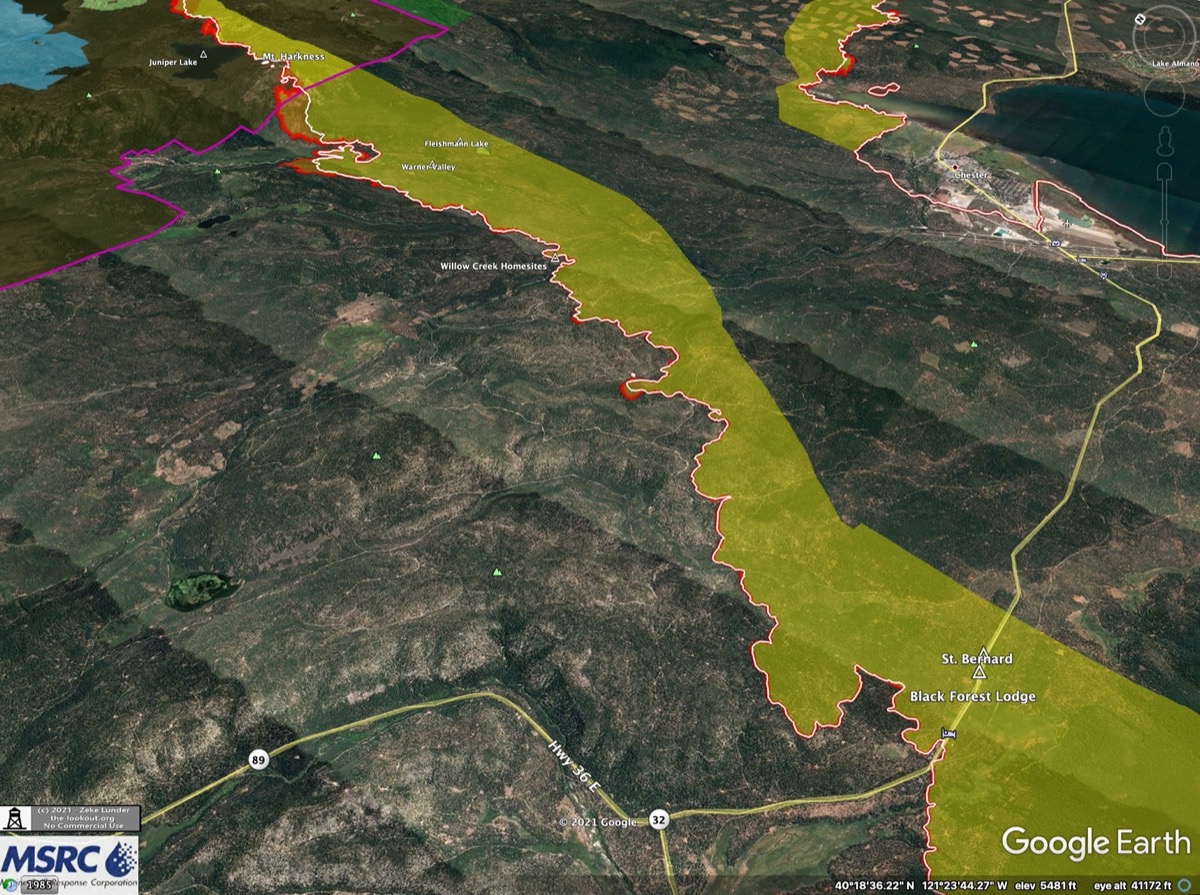 On the northwest flank, the fire was most active on the west side of Mt. Harkness.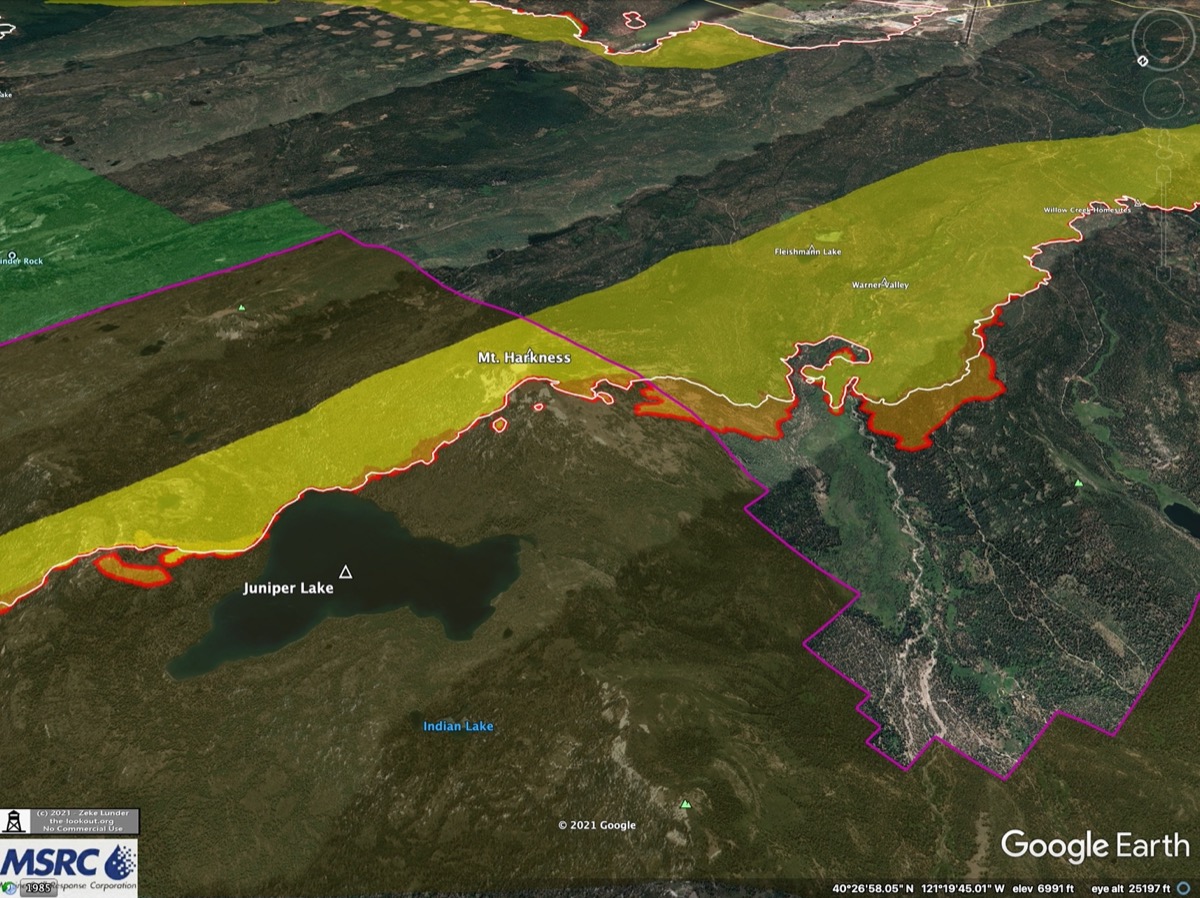 The fire continues to back/flank steadily down Keddie Ridge. The area in orange here ran a little over a mile yesterday. Fire didn't spread downhill toward North Valley Road anywhere west of the Peter Lassen Marker.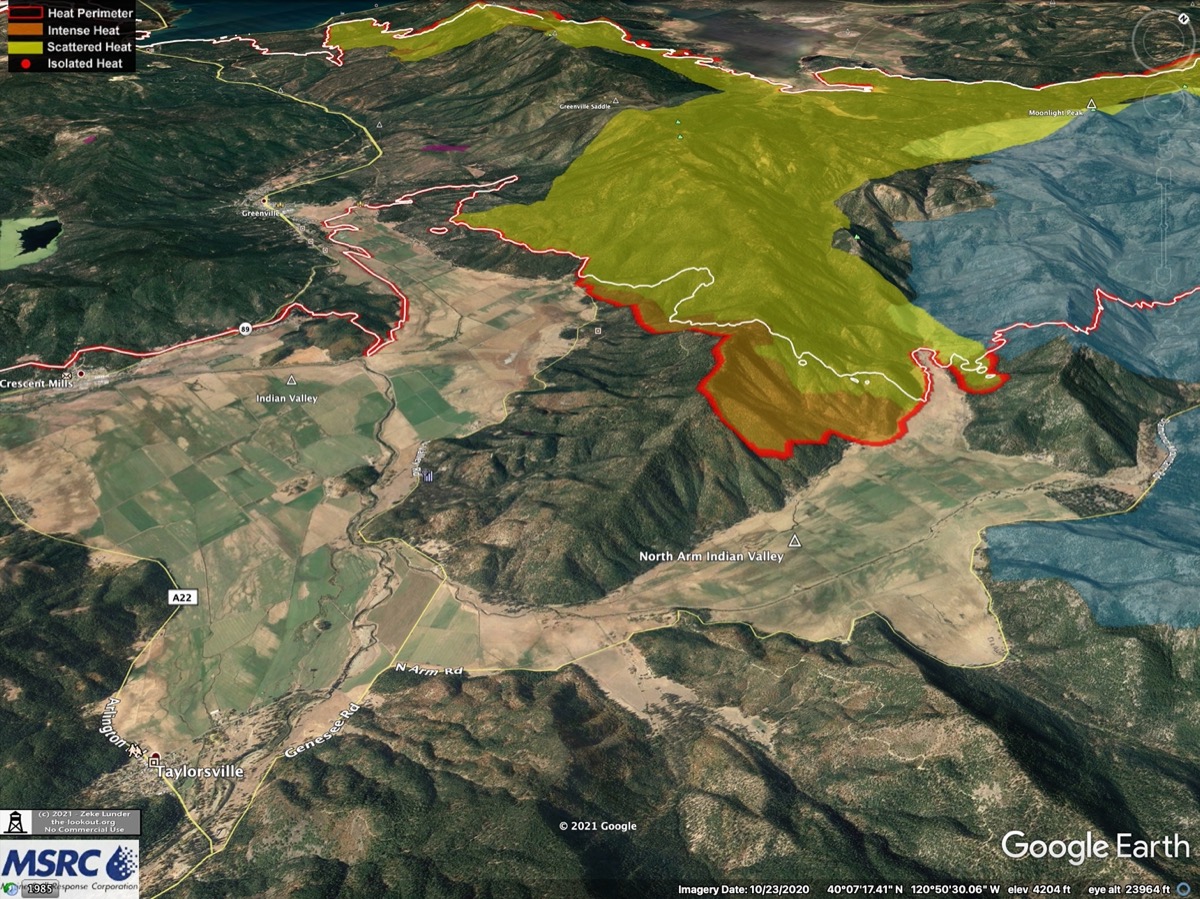 Hope everyone has a safe day. There will be an update tonight by 10 pm.
If you are looking for detailed info I haven't captured here, send me a DM on Facebook or Twitter, or use the email link to the right and I'll include your inquiry in the next update.
If these posts are helping you out, consider donating to The Lookout. We are still working out what the website will be, but donations will help me hire some help to create content and stories to help us more forward through this disaster.