KNP COMPLEX
Intel & Commentary by Chuck Ervin  *****  Maps & Captions Ryan Stephens
---
***11:30am on October 10 ~ Sequoia and Kings Canyon National Parks KNP Complex Facebook Update:
Active fire behavior was observed over most of the fire yesterday, making a run as it became established in Redwood Creek on the northern end. Firefighters provided structure protection for Wilsonia, Hartland, Quail Flat, and Grant Grove along the northwest perimeter. The fire crossed Generals Highway near Redwood Mountain Grove and Stoney Creek, causing firefighters to temporarily move to safer locations.
On the southern side of the fire, resources worked along the Mineral King Road to contain the spot fires from Sunday night. Firefighters also provided structure protection in Silver City and the Mineral King area. Aircraft were able to support ground resources with bucket drops on Monday once the smoke cleared enough to safely fly.
Today, firefighters will improve control lines along the northwest perimeter to keep the fire east of Hartland and protect Wilsonia, Hartland, Quail Flat, and Grant Grove Village. Resources are working at the Big Whistle area and around park structures to stop the fire from moving any farther north.
Along Generals Highway, firefighters are patrolling established firelines near Big Baldy and construct firelines father east by Stoney Creek and Cabin Creek to prevent further spread to the northeast. Resources south of Morro Rock are connecting indirect lines back to established containment lines.
On the southern perimeter of the fire, resources are working to contain the fire where it crossed Mineral King Road. Crews are working to keep the fire from progressing south toward Ash Mountain. Structure protection continues for Silver City, the Mineral King area, Three Rivers and Ash Mountain. Aviation assets are available to support firefighting efforts on the ground as visibility improves.
***9am on October 5 ~ Morning briefing video from Sequoia and Kings Canyon National Parks
***6am on October 5 ~ Ryan Stephens – Today's Lookout IR maps
Good morning everyone. There's been quite a bit of action around the KNP in the past 24 hours. Unfortunately, the social media fiasco yesterday slowed intel coming in from the fires. Last night's IR flight did not get off the ground for unspecified reasons, no Lookout perimeter growth maps today. Check out Chuck Ervin and additional Sequoia National Park updates below.
TODAY'S PUBLIC INFORMATION MAP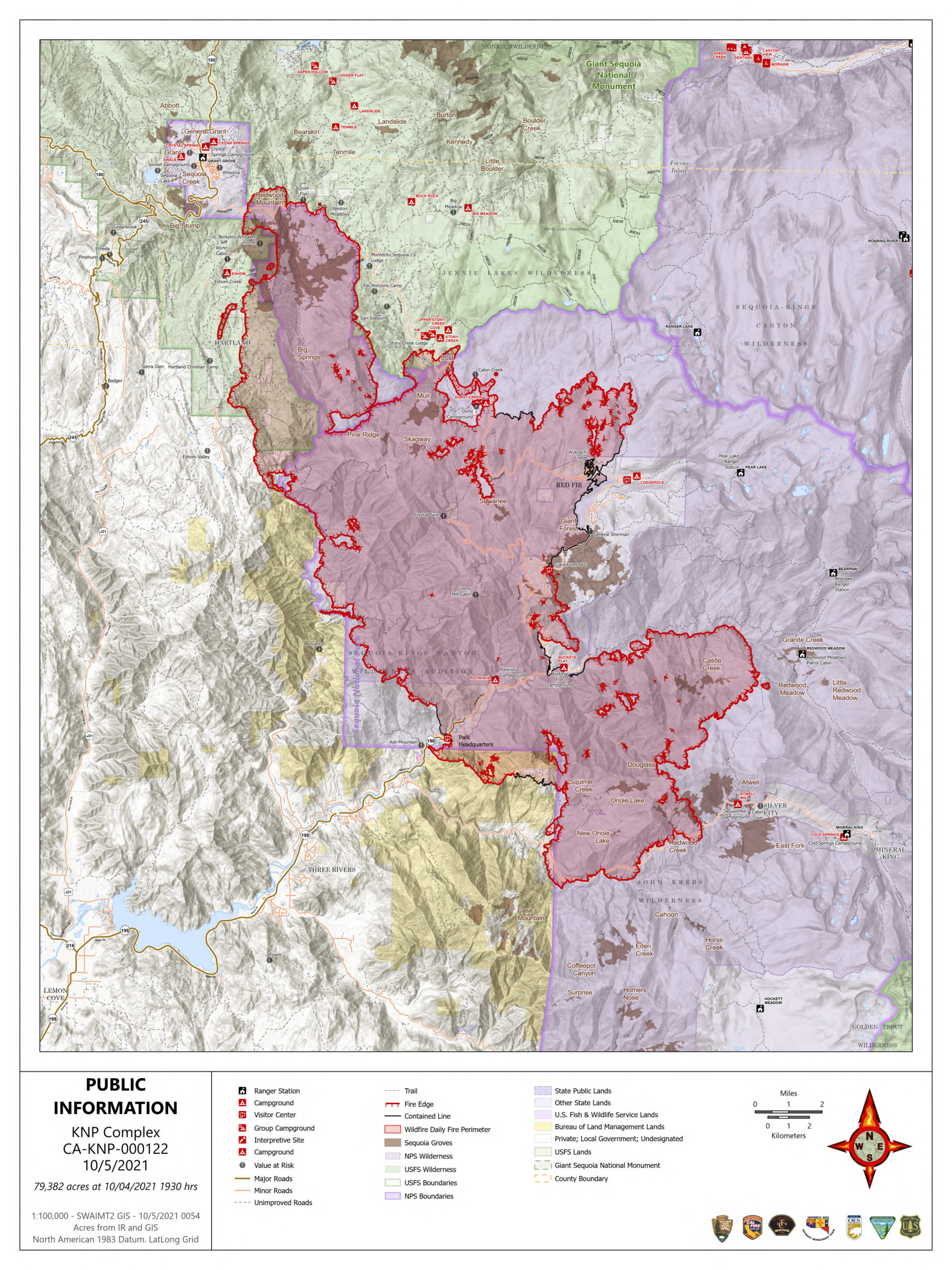 ***9pm on October 4 – Chuck Ervin:
Today was a big one for the KNP Complex.  As the main fire ran up Redwood Canyon to meet with the burnout operation above, about 10,000 acres of heavy fuels stacked emissions into pyrocumulonimbus. Visibility was poor on the remote cameras in the area. It looked to me like there were some downdrafts, but not a full column collapse.  Very strong and erratic winds were seen in area RAWS, most dramatically at Ash Mountain.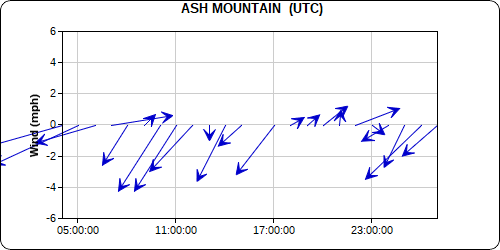 On the south side of the fire, various points of slopover along the Mineral King Road will continue to be a point of concern, as these have the potential to greatly increase the footprint of the fire by crossing the south fork or by moving up canyon towards Silver City and Atwell Grove. Atop the ridge to the north, fire has covered much of the Castle Rock Grove and works it's way up to the wooded saddle where the trail to Paradise Peak traverses the ridge.  Fire crews will be challenged to hold in these critical locations until a break in the weather comes at the end of the week.  
At this point, the Windy has begun shifting resources to the KNP, so we don't expect to see much more there.  The area near Bear Creek, burning down through brush into the savannah will continue to be a point of concern, as noted in previous reports.  The ridges run parallel to the fires direction of progress, meaning that line must be cut perpendicular to the ridges, up and down steep drainages that may be uncrossable by equipment or even hand crews.
Stable weather continues through the week until Thursday night.  Possible frontal activity will bring some cooler weather and hopefully a bit of precipitation in the area through Friday.  As always, this may also mean some stout winds through the period.
This frontal activity map is for noon Friday, purple arrow is my addition to highlight the cold front.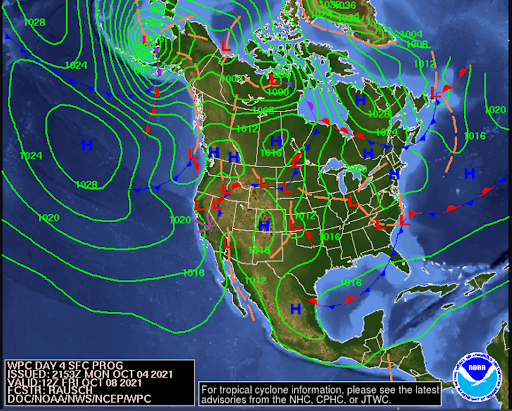 ***10:30pm on October 4 ~ Sequoia and Kings Canyon National Parks KNP Complex Facebook Update:
Late last night winds caused a spot fire across Mineral King Rd which prompted an Evacuation Order for Crest, Sierra King, Hammond, and Oak Grove. Yesterday, firefighters continued with indirect suppression tactics to secure control lines on the northwest perimeter. Tactical firing operations are being used to create a continuous line between previously established control lines and existing or natural holding features such as roads and rock scurries. In Redwood Mountain Grove, crews worked in close coordination with natural resource specialists as they progressed with strategic firing operations in the northwest. Structure protection continues in Eshom, Hartland, Silver City and Mineral King areas.
Today, along Mineral King Rd firefighters will assess how to safely engage the spot fires that occurred last night. Resources will continue to provide structure protection for those communities under Evacuation Orders. Unmanned Aircraft Systems (UAS) will be used to help gather information along the southern perimeter.
The fire continues to hold east of control lines on the western perimeter. Firefighters will continue to secure lines while maintaining a presence in the Three Rivers and Ash Mountain areas.
Tactical firing operations will continue as conditions allow along the northwest flank as crews progress to the north.
Firefighters in Redwood Mountain Grove are working in coordination with resource advisors to establish strategic plans for future tactical firing operations. UAS may assist firefighters with tactical firing operations as they progress north along Generals Highway. Minimal fire activity was observed near the northeast corner because the fire is burning in areas with less continuous fuels.
Firefighters continue to secure and extinguish heat sources near established containment lines and within the Giant Forest Grove. Aviation resources are available to support firefighting efforts on the ground as visibility allows.
Containment decreased due to the increase in fire size. We ask the public to use caution when traveling in and around the fire area as firefighters and equipment are diligently working to protect communities and construct containment lines.
The high-pressure ridge that has held smoke over the fire over the past few days will begin to break down as a low-pressure trough approaches today. This will allow a small increase in westerly winds aloft which will start to lift smoke up and out of the area. Local winds will remain light and terrain driven. Humidity levels will rise slowly as moister air moves into the area, which will help moderate fire behavior slightly in the coming days.
***END KNP
---
WINDY
***6am on October 5 – Ryan Stephens:
The Windy Fire has slowed down considerably and containment continues to increase. Last night's Sequoia National Forest update put containment at 70% and a marginal increase of 599 acres of growth over 24 hours. Unless there's significant change on the Windy Fire, we'll be focusing the bulk of our work on the KNP Complex:
Overview of the fire looking east:
White perimeter line around the fire was yesterday's fire perimeter.Giant Sequoia Groves are SHADED GREEN. Past 10 years of (Rx) prescribed fire is SHADED DARK BLUE. All other perimeters with various color fill show the past 10 years of fire history in the area👇
***END WINDY