Good morning. If you are evacuated, I'm feeling for you, and hope I can give you some good news.
UPDATES:
An IR recon plane flew over the fire at 1pm, and captured this mapping of the fire south of Janesville. Not a lot of growth in past 10 hours. White line shows fire as mapped at 3am, red perimeter mapped at 1pm.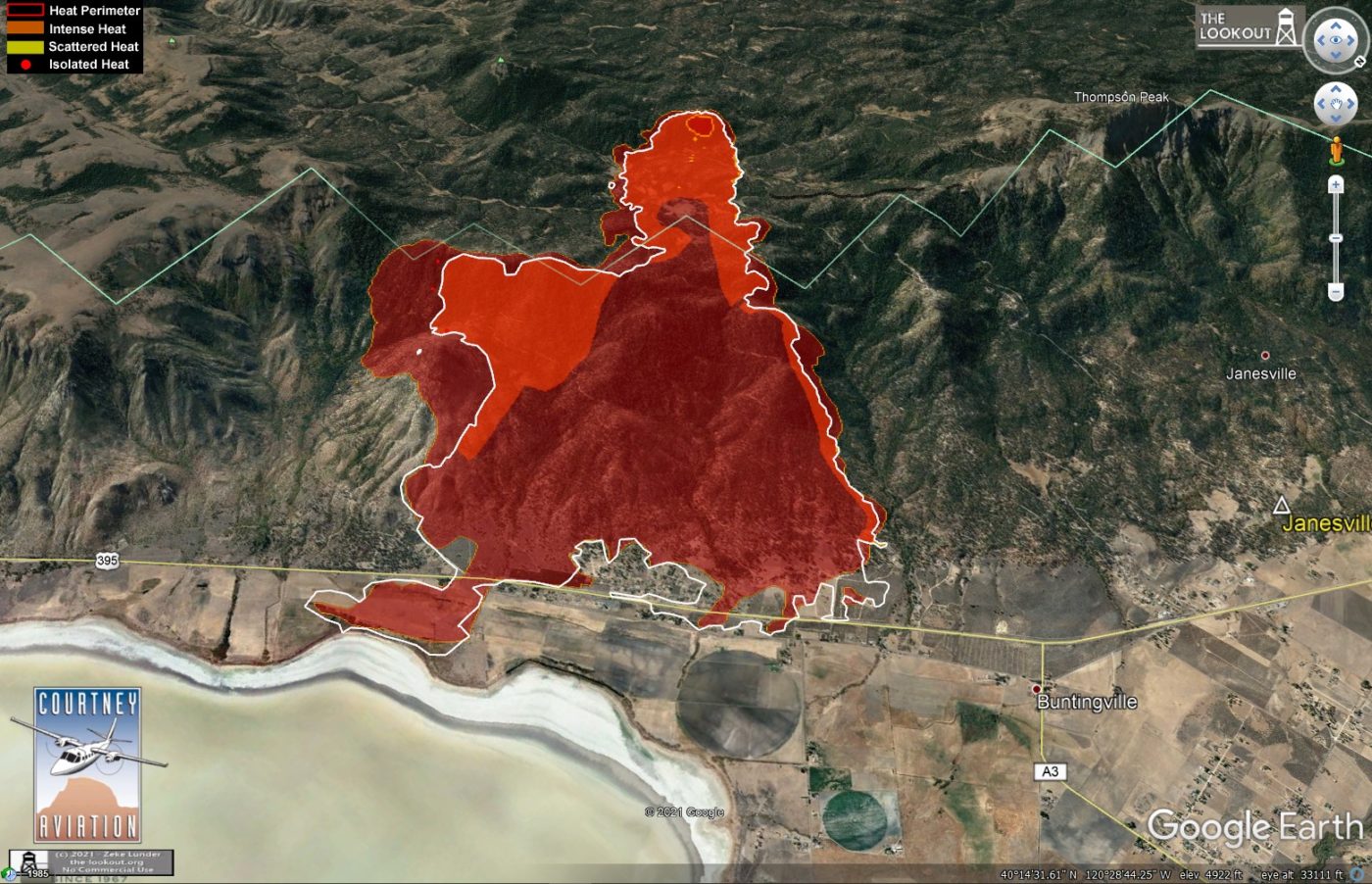 Forecasts
Well, if you are looking for good news, don't read this section.

From NWS – SF 9:30pm: A significantly more energetic vorticity wave will roll in and accelerate the descent of the low pressure system into the lee of the Sierra Nevada and into the Great Basin. We generally refer to these patterns as "insider sliders" and they are particularly concerning because of where they often position our area – on the dry, windy side of the trough/storm system. To compound issues, they are ideal for generating offshore flow, which is a risk as these winds often bring even drier conditions than they would have otherwise due to downsloping/terrain effects. Generally, these type of systems arrive in the latest stretches of the summer through the fall, so this system is a bit early… The development of extremely critical fire weather condition across the state means that wildfires burning to our north will likely intensify and generate more smoke than they have been. The northerly winds will then transport this smoke southward towards the San Francisco Bay Area by tomorrow night before tanking air quality through the day on Wednesday.
From NWS- Sacramento 4am:  Temperature observations across Northern California as of 3:00 am this morning are coming in about 5 to 15 degrees cooler than this time yesterday morning. Temperatures today are also forecast to be notably cooler than yesterday with near normal highs expected. This change is due to a low pressure system forecast to impact our region today through Thursday. Cooler temperatures as well as dry, gusty winds are expected. This synoptic pattern will likely bring critical fire weather to portions of California. Winds are forecast to shift out of the north to northeast as the low pushes south and east into the Great Basin. These northerly to northeasterly winds could transport smoke from regional wildfires into the Valley.
Maps
Janesville Area. The spread down the hill was all from the new fire. New Fire, Spot Fire? It matters, and I don't know what started it, so I am going to call it the New Fire for now, and let the experts decide how it started. Here is a detailed map of where fire was around Janesville at 3am.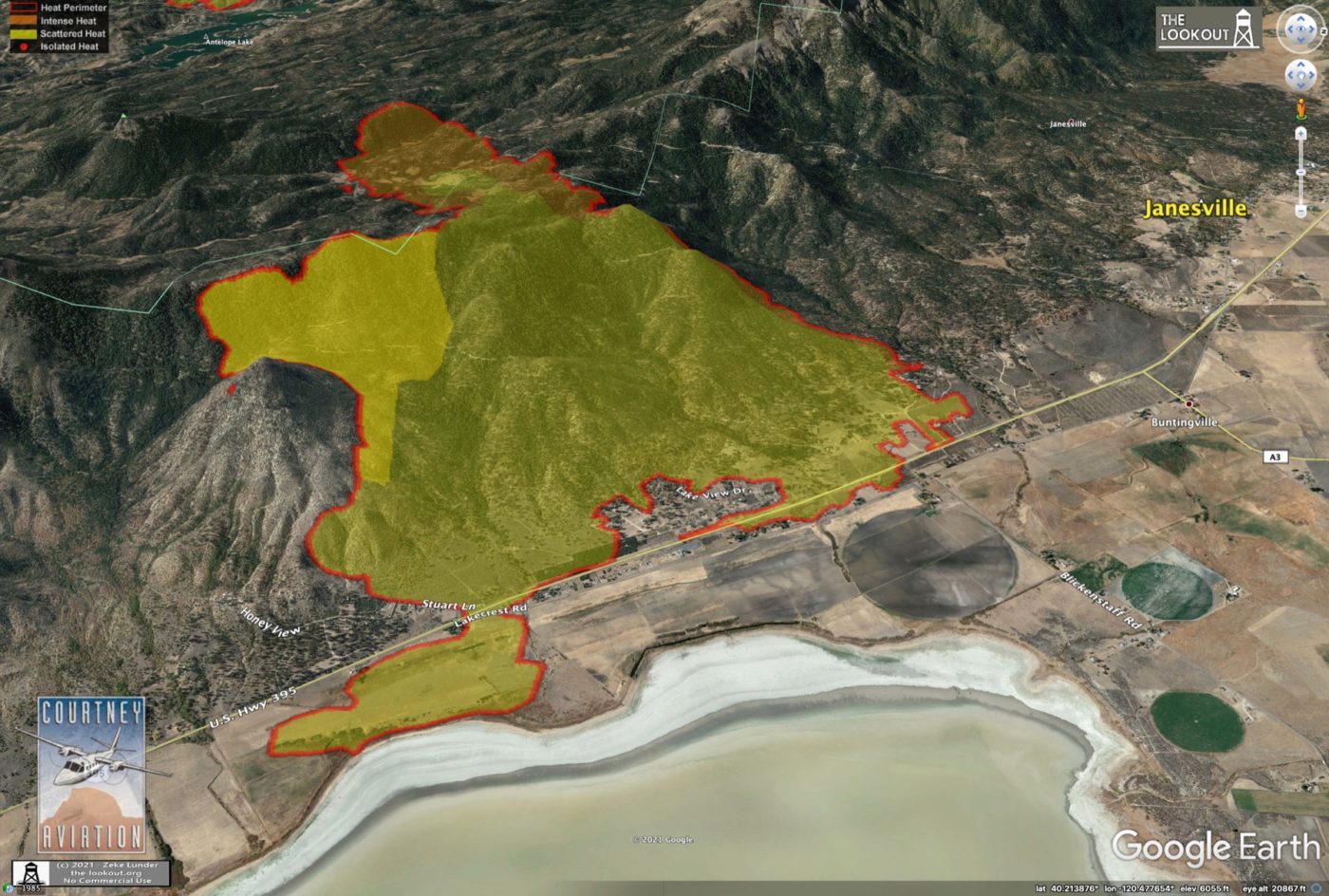 A big part of this story is that the main fire west of Antelope Lake that put up the big column earlier in the day yesterday wasn't advancing forward that much yesterday. It was mainly burning out areas west of Antelope Lake in Peters Creek around Taylor Lake. We have been watching and waiting for this area to burn for several days.
Why was the main fire holding up at Antelope Lake? Fire history and forest management surely played a role. In past 20 years, the Antelope Lake area has had the 2001 Creek Fire, 2006 Boulder Fire, 2007 Wheeler and Moonlight Fires, and 2019 Walker Fire. After each fire there has been roadside hazard-tree salvage logging and cleanup. This in addition to 30-plus years of thinning around the lake — there wasn't as much fuel in this area as the areas the Dixie Fire had been burning through, and it was kind of out of hills to run up onto, and mainly backing down to the lake.
This image shows areas of the fire that were active yesterday, along with fire history. Everything north of Eisemheimer Peak has already burned, but wasn't scanned, hence lack of color there. Black lines are dozer lines.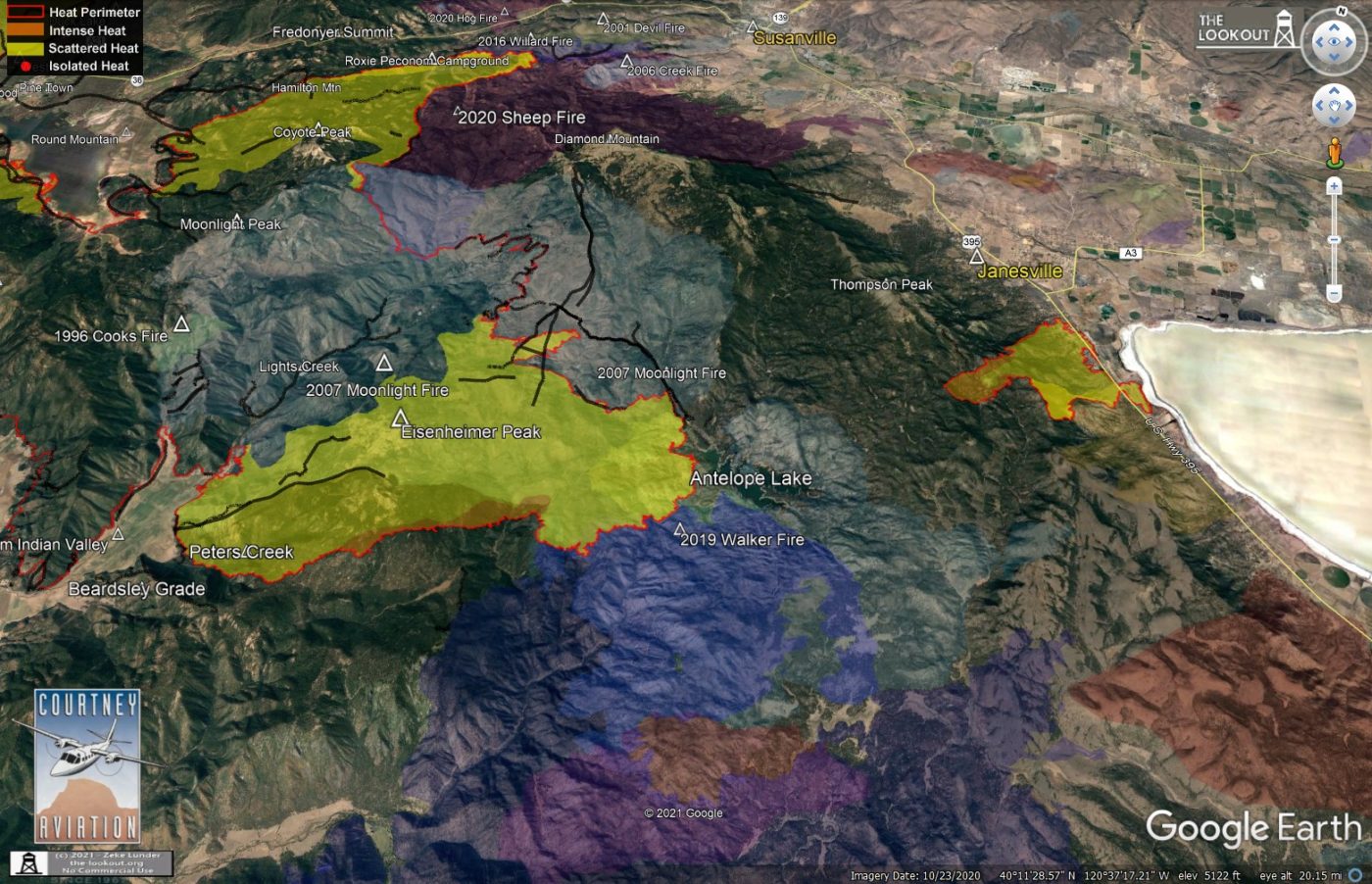 The big column earlier in day yesterday on east side of the fire was from burning up and out of Peters Creek.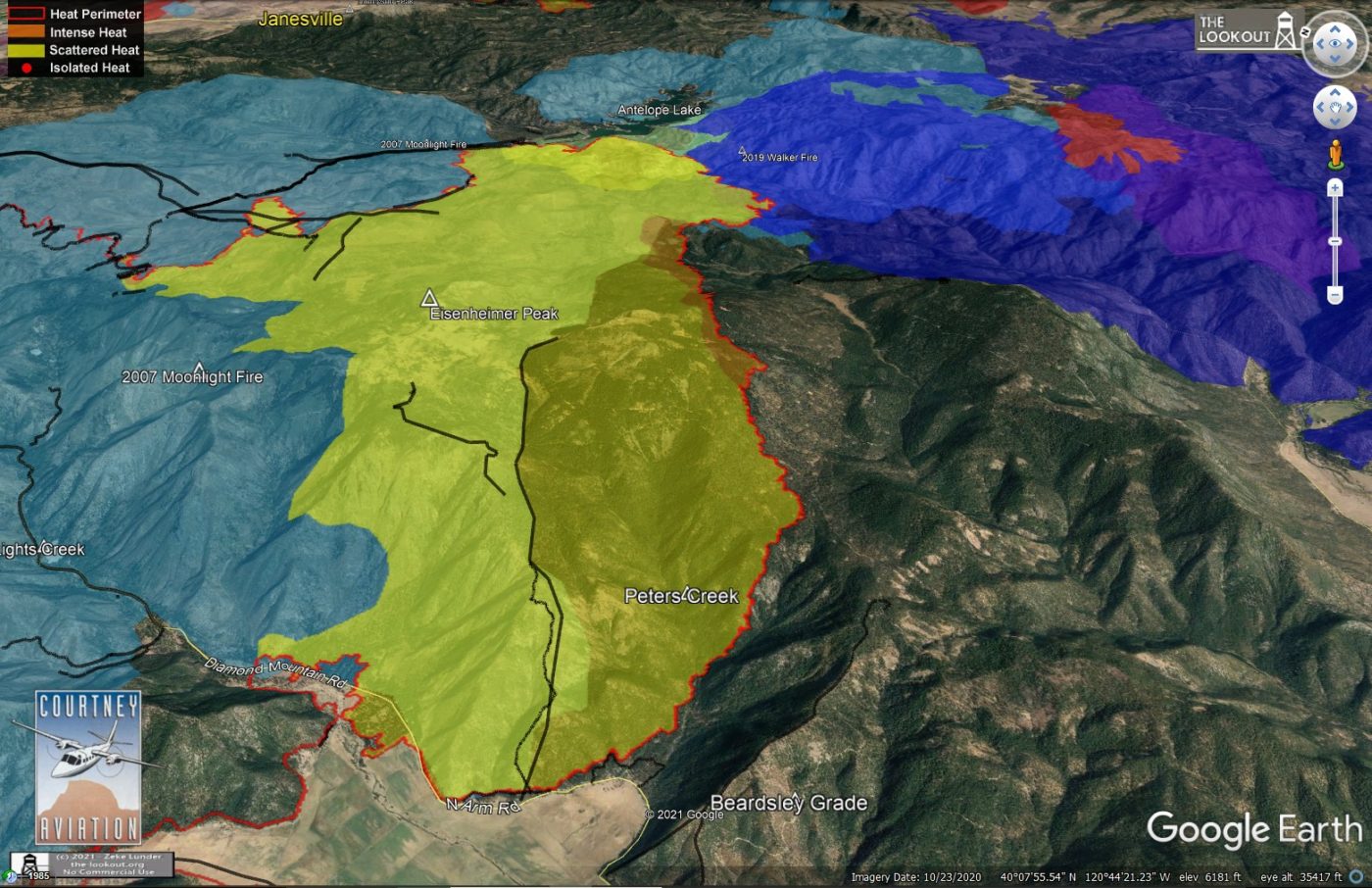 As of 3am, the fire had not advanced significantly toward Genesse Valley, in foreground, but similarly to the rest of the hot spots in the fire, having all of this heat hanging to the north is a bad setup for the upcoming north and northeast winds.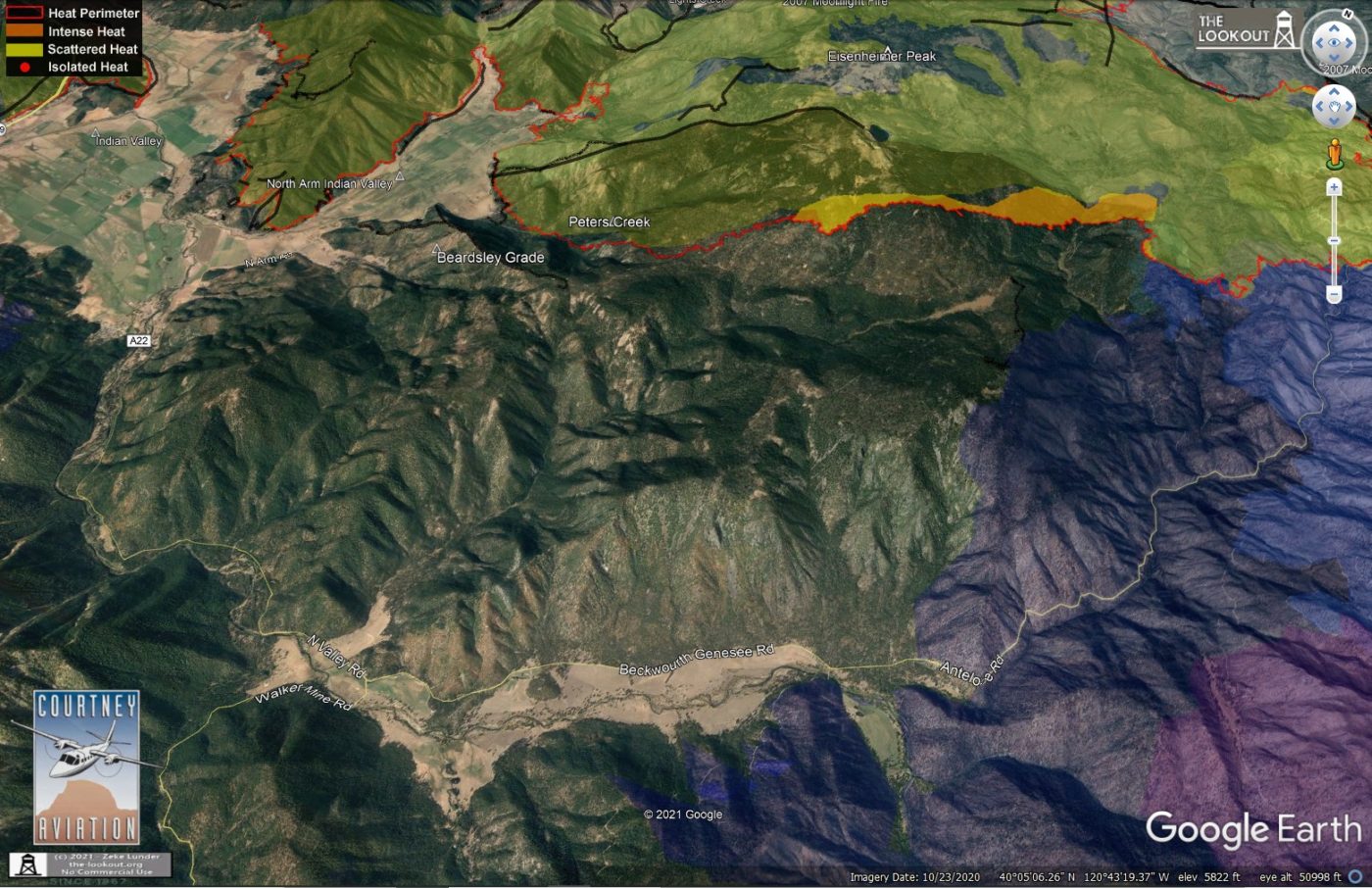 A look up Susan River from Susanville. Not a lot of new information here from what I posted in last night's update, except to repeat that the fire making the run at Susanville didn't initiate in the area where we have been watching it flank slowly along the 2020 Sheep Fire on Willard Creek, but from a flank that took off on the Mountain Meadows side of the fire once it got aligned with slope and wind. Black lines are dozer lines.
Westwood made it through another day of extreme fire behavior nearby. This view looks south over Mountain Meadows Reservoir/Walker Lake, where fire moved down to the lake shore on south side, and then ran east.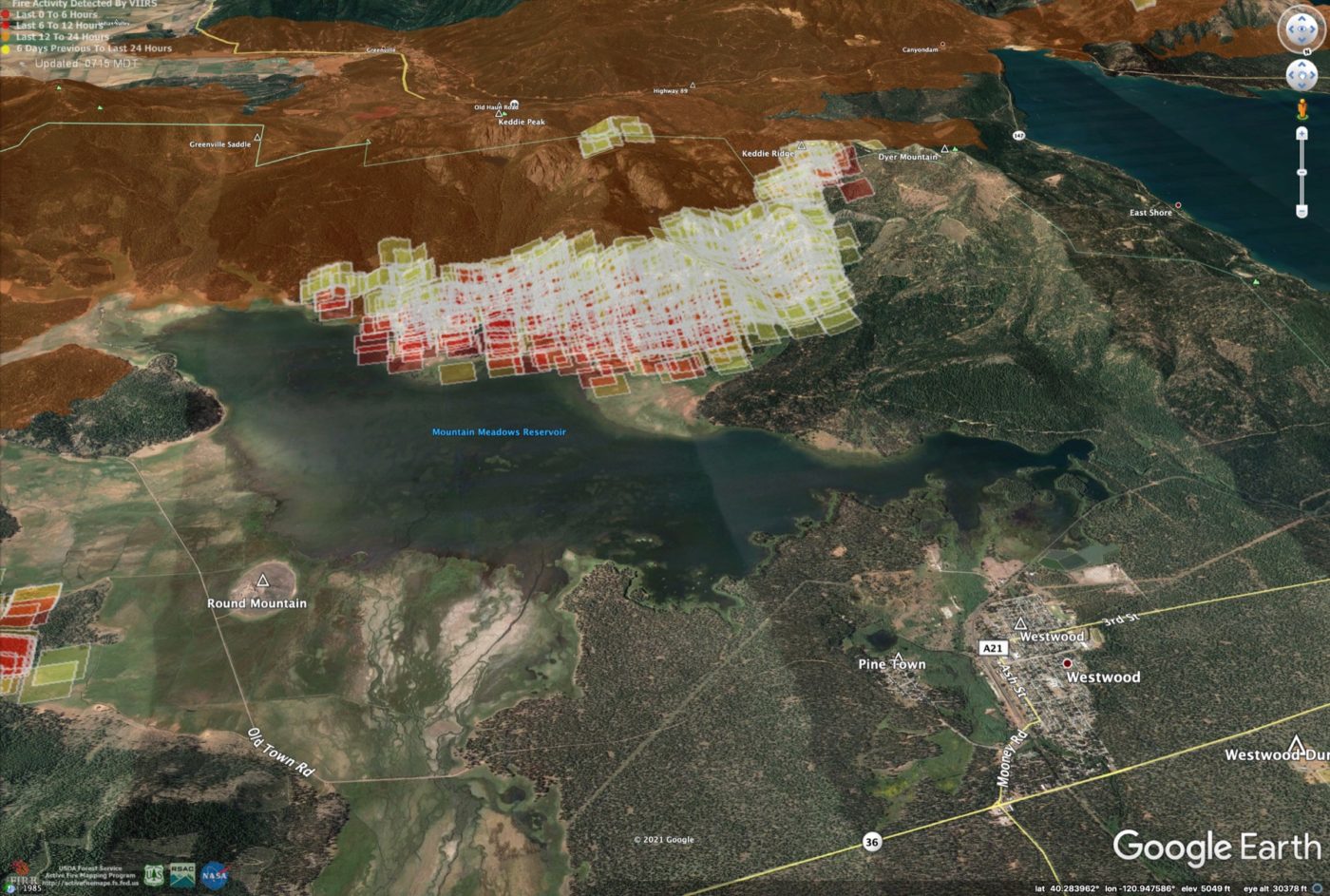 Looking north over Westwood, the fire really filled in the big gap between the Chester Dump Road and the big thumb of fire which threatened Westwood last week. The area in upper-left has burned, but was not scanned, so shows up as blank. The firing operation from three days ago took off into the interior and burned into the area west of Duck Lake that had already burned. No spots were reported over Highway 36, and it looks like A-21 held yesterday, also. The big vulnerability now is all of the fire north of Highway 36, and what it does when the winds switch to come out of the north. Black lines are dozer lines.
The Peninsula, Hamilton Branch, and even East Shore are still in grave danger for several days.
Same area as above, but satellite heat data actually shows better where fresh heat is.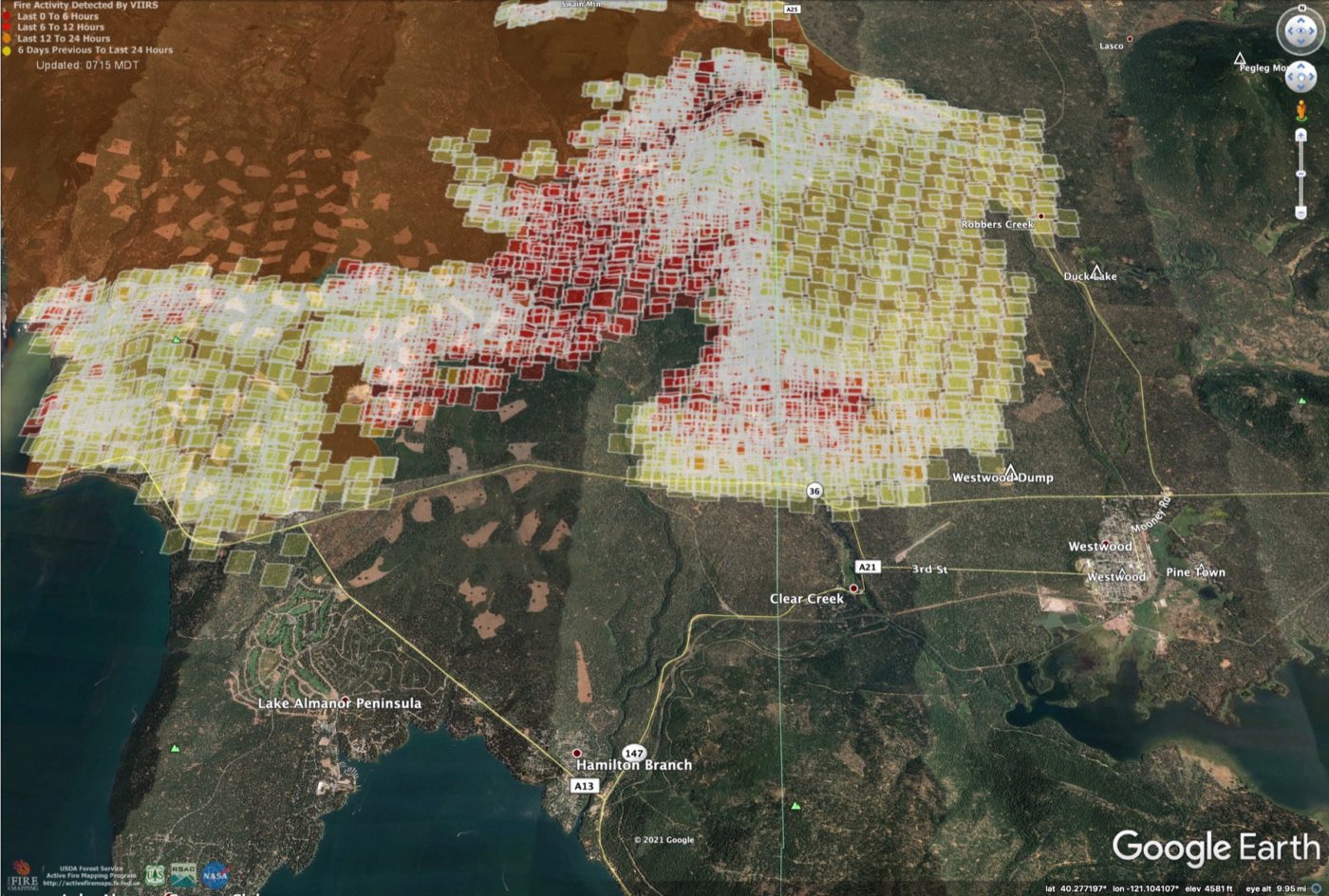 North of Westwood, Silver Lake still looked fine at 3am this morning. Black lines are dozer lines.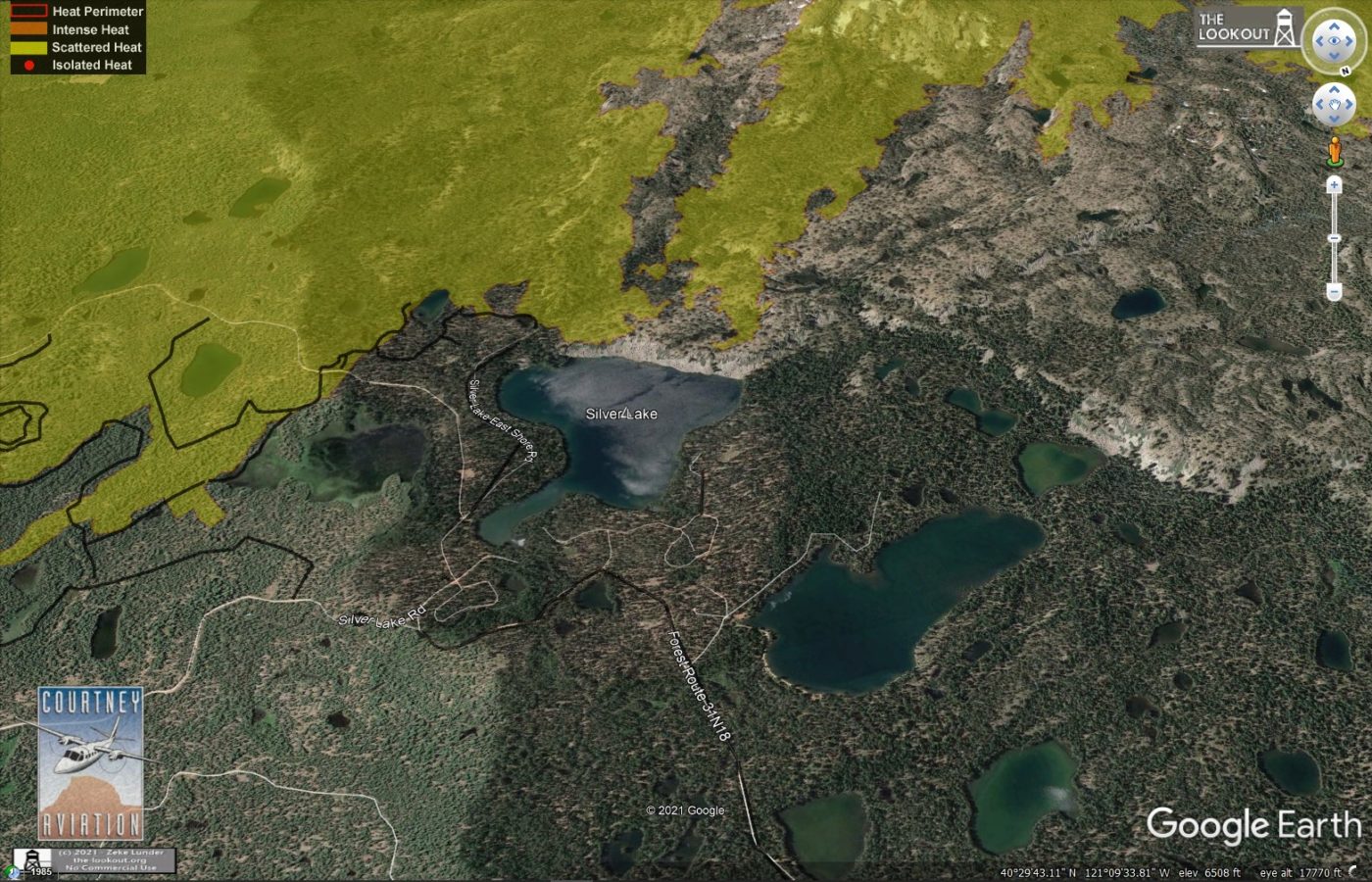 As predicted, the fires on Morgan Summit really took off, spreading to at least 10,000 acres. They are now joining up with the Dixie. Firing along the Park Road appeared to be holding throughout the day. I have no intel on the status of the Kohm Yah-mah-nee Visitor Center. It looks like the dusty, crusty, and kind of fancy and expensive old Drakesbad Resort finally got hit by Dixie. The four-day-old Redding Record Searchlight story about Drakesbad is now factually correct.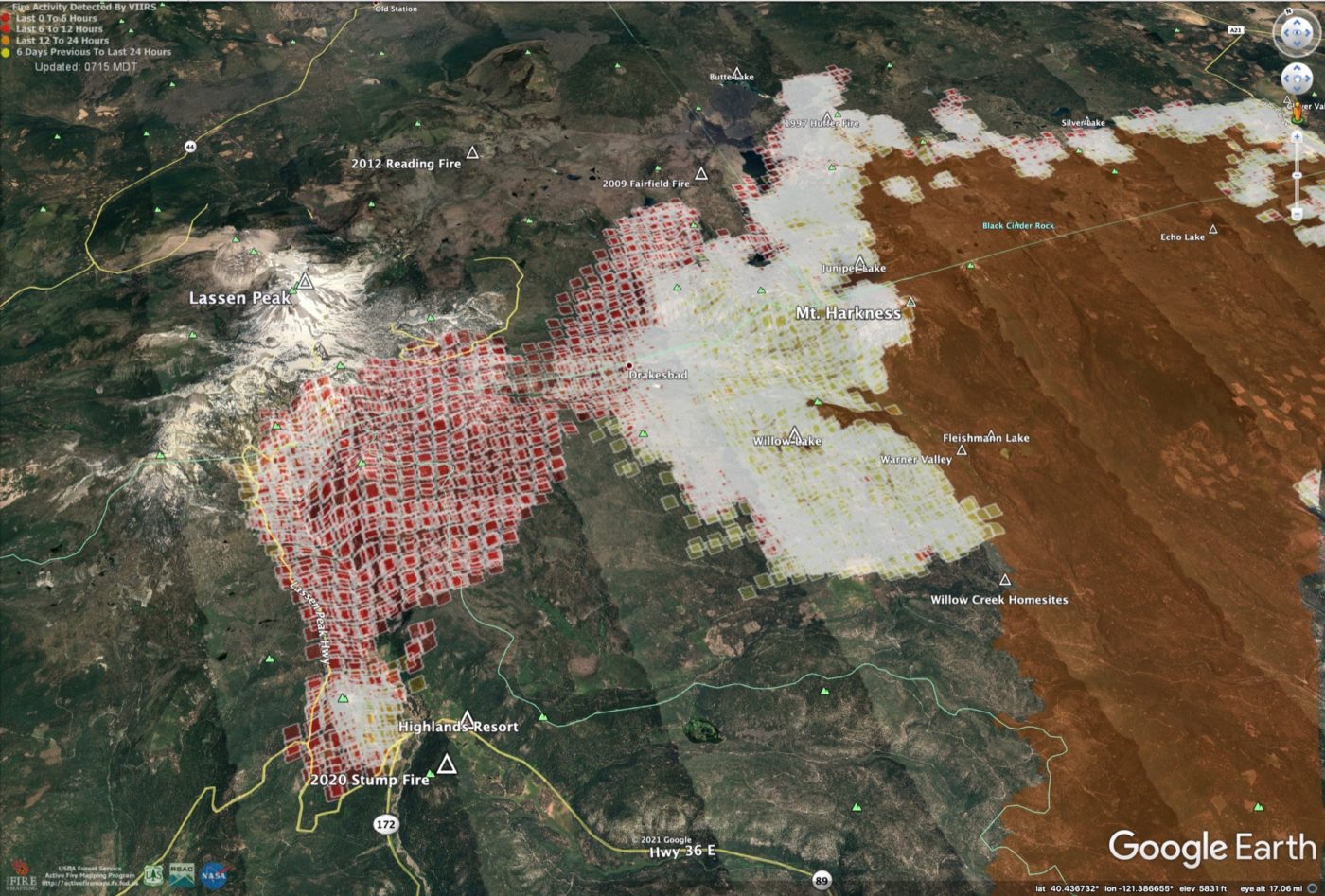 As mentioned yesterday, the 2020 Stump Fire buys a little protection for the Highlands Ranch Resort, but not a lot.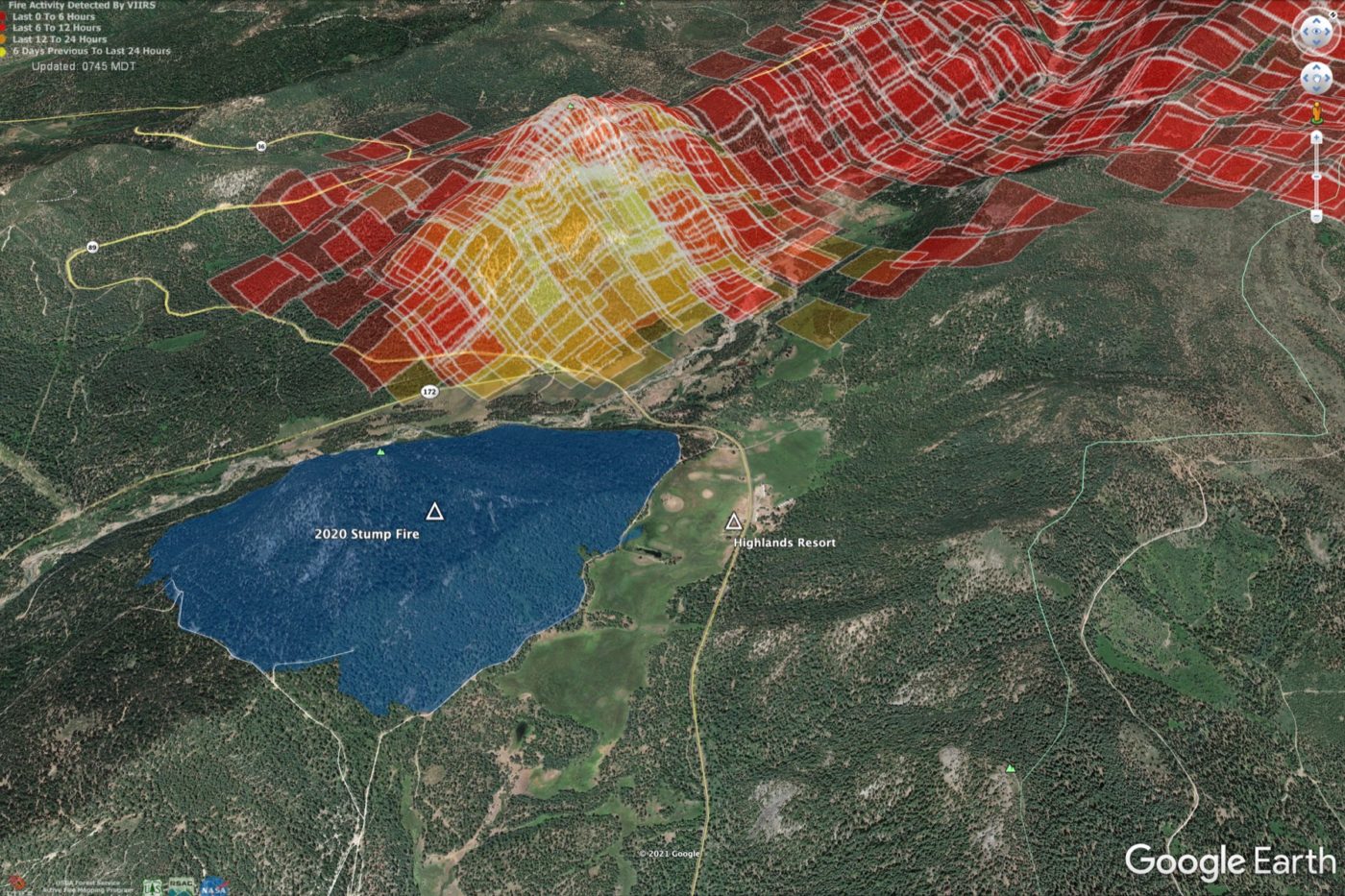 It looks like there was an ongoing firing operation on the south side of Morgan Summit down to Highway 36 at 3am.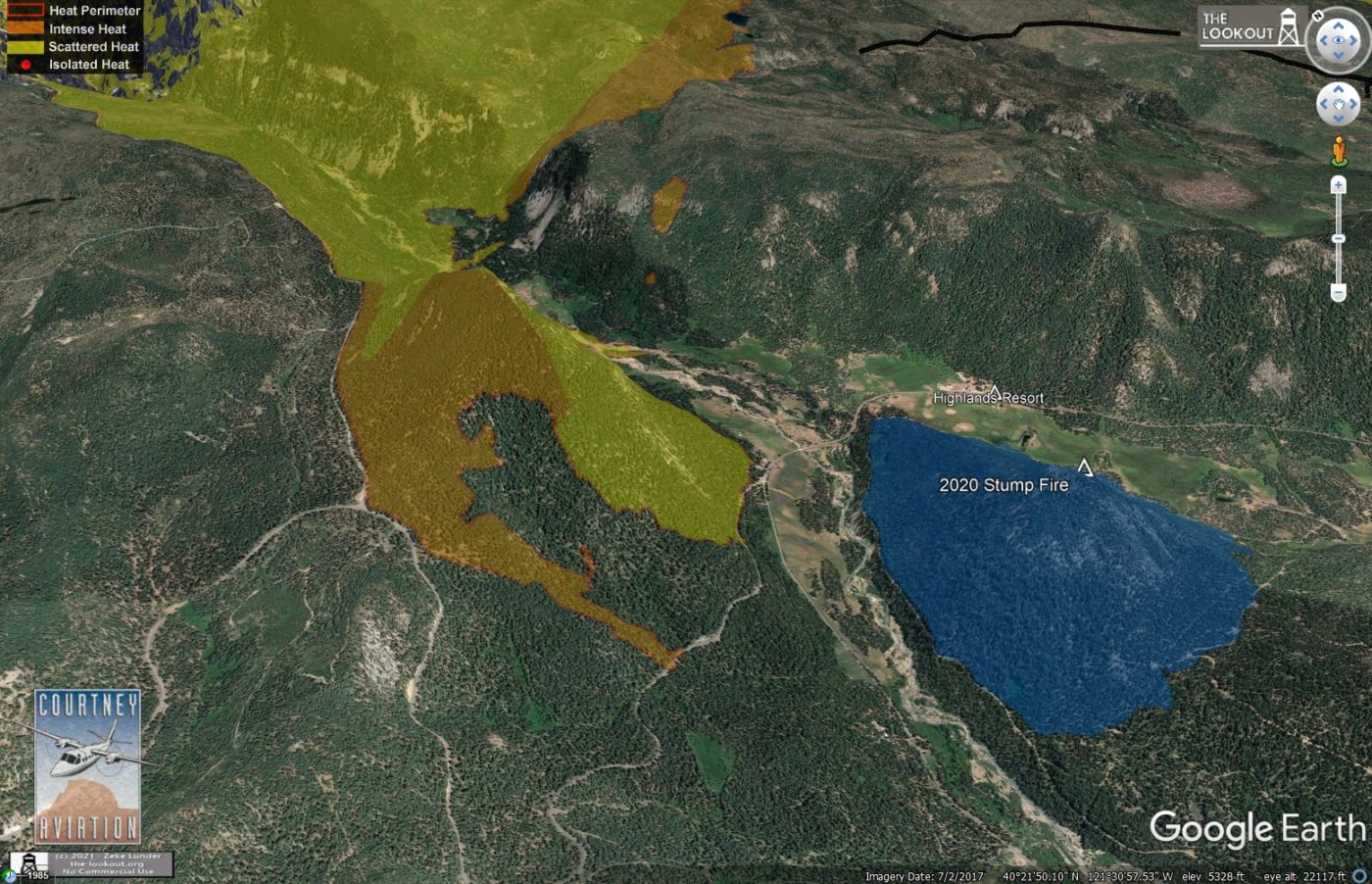 Firing operations along Highway 89/Lassen Park Road yesterday created a four-mile-long head-fire that spread five miles to the east, burning about 10,000 acres with high severity. This seems like it was a bit of a Hail Mary, and hopefully this line holds as the winds turn to northeast.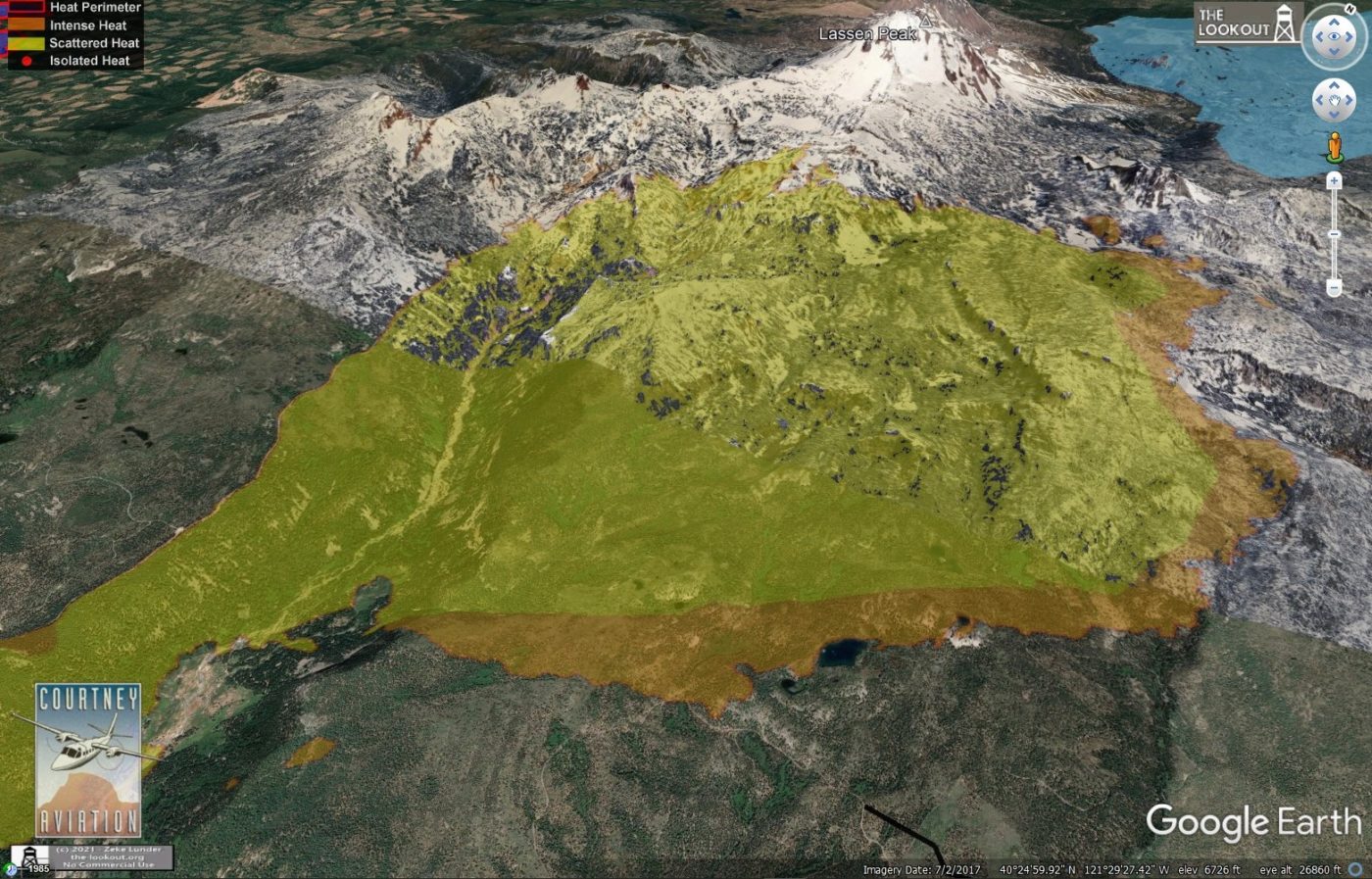 The big question for this part of the fire is: What next? Being on top of Morgan Summit, the fire is in a perfect place to make major spreads to the south, west or east if it spots over the current recently-fired control lines.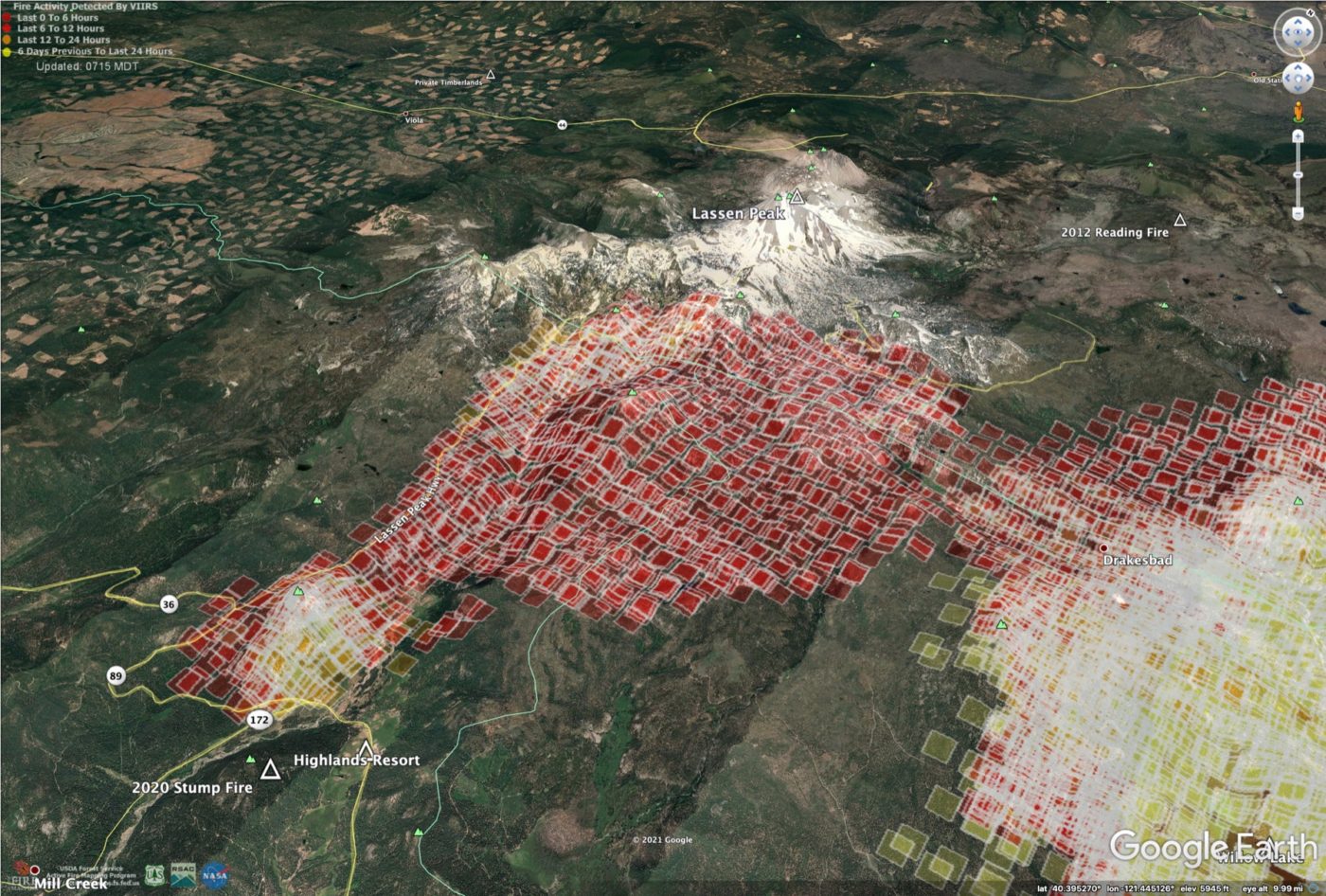 The primary plan shown on today's Operations Maps is to try to contain the western edge of the fire at Highway 36 between Childs Meadows and Chester, but just like the problems between Chester and Westwood with a lot of heat hanging to north of Highway 36, it seems like likely the fire will make a wind-driven runs in next day or two that jump the highway and head south into the area between Mill and Deer Creek.
Also, given the conditions, fire behavior we have been seeing, and forecast, it's not unlikely the fire is going to burn south between Mill Creek and Mineral. Direct attack has generally not been successful on the fire due to short-range spotting, and when the winds are unfavorable, indirect attack is not working due to long-range spotting. The fire is about seven miles from the clearcuts in the lower left of this image.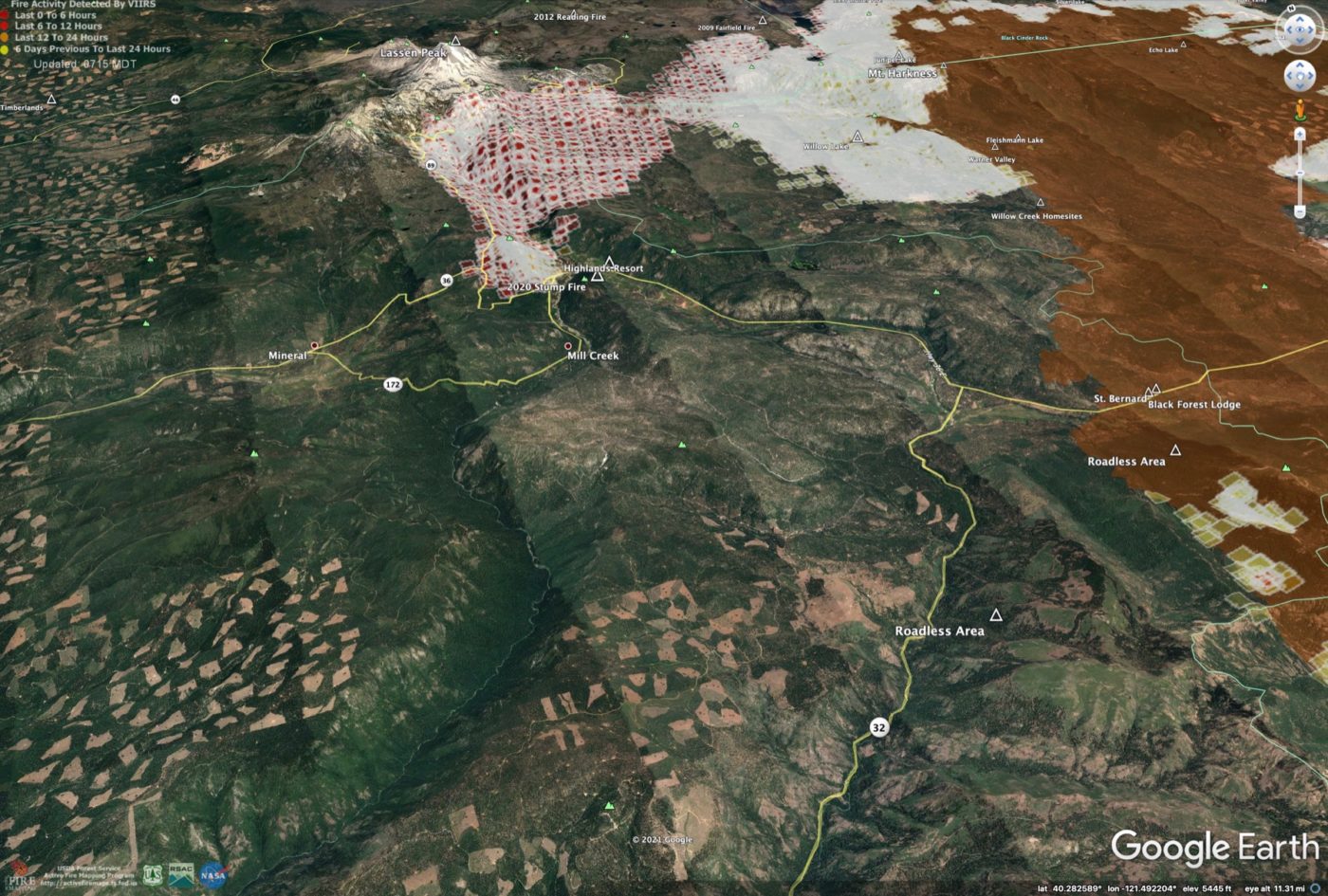 South and west of the new fires on Morgan Summit are tens of thousands of acres of industrial timberlands. So far on the fire, the clearcuts have been very receptive to spotting, with new spot fires quickly becoming established and spreading to the adjacent uncut stands. They have not bought firefighters many advantages except in places where they are associated with post-fire salvage logging and large areas which have been site-prepped for replanting like the Willard and Moonlight Fires. Not trying to make this political, it's just what's going on. Black lines on this map are some of the dozerlines inside the fire that didn't hold. (We aren't generally very good at capturing dozerlines on the maps and there are almost 1,100 miles of dozerline mapped for this fire, but that could be missing a substantial amount of the places people have driven a 'big yellow Pulaski' in the past month. There are 203 dozers assigned to the fire right now.)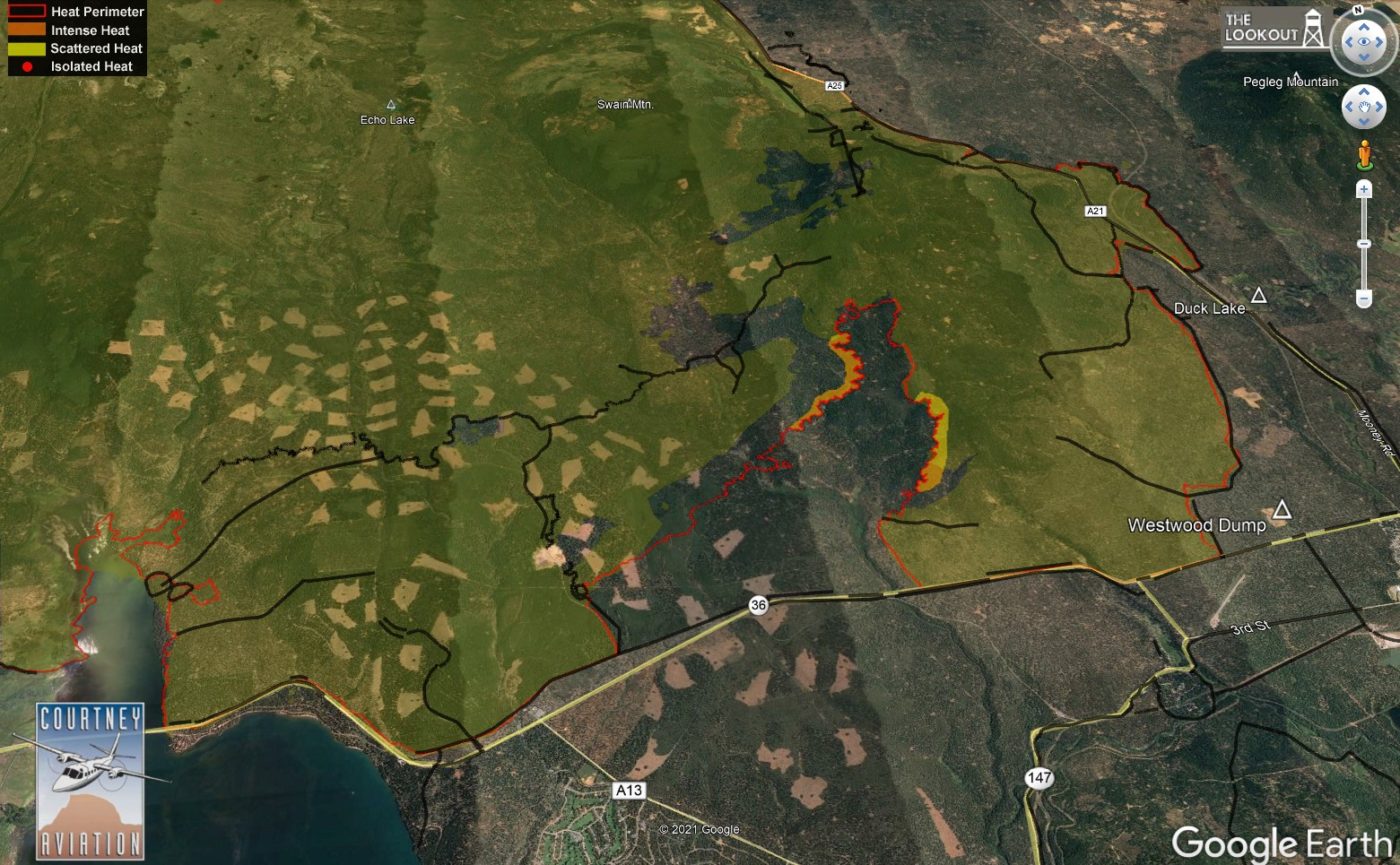 Heavy airtankers can be very effective in these industrial timberland areas given the right conditions. For example, last year on the Hog Fire, air attack focused a steady bombardment of heavy airtankers on the upwind flank of a running crown fire, spending about a million dollars worth of retardant in a single afternoon. This line bought time for dozers and crews to finish the job and contain that entire northern flank of the fire. The problem with this fire, is there isn't a single upwind flank to focus on. The fire has over 500 miles of perimeter, and one day's success is likely to be eaten by spread from another direction days later. There just aren't very many places to really anchor in, we keep getting outflanked.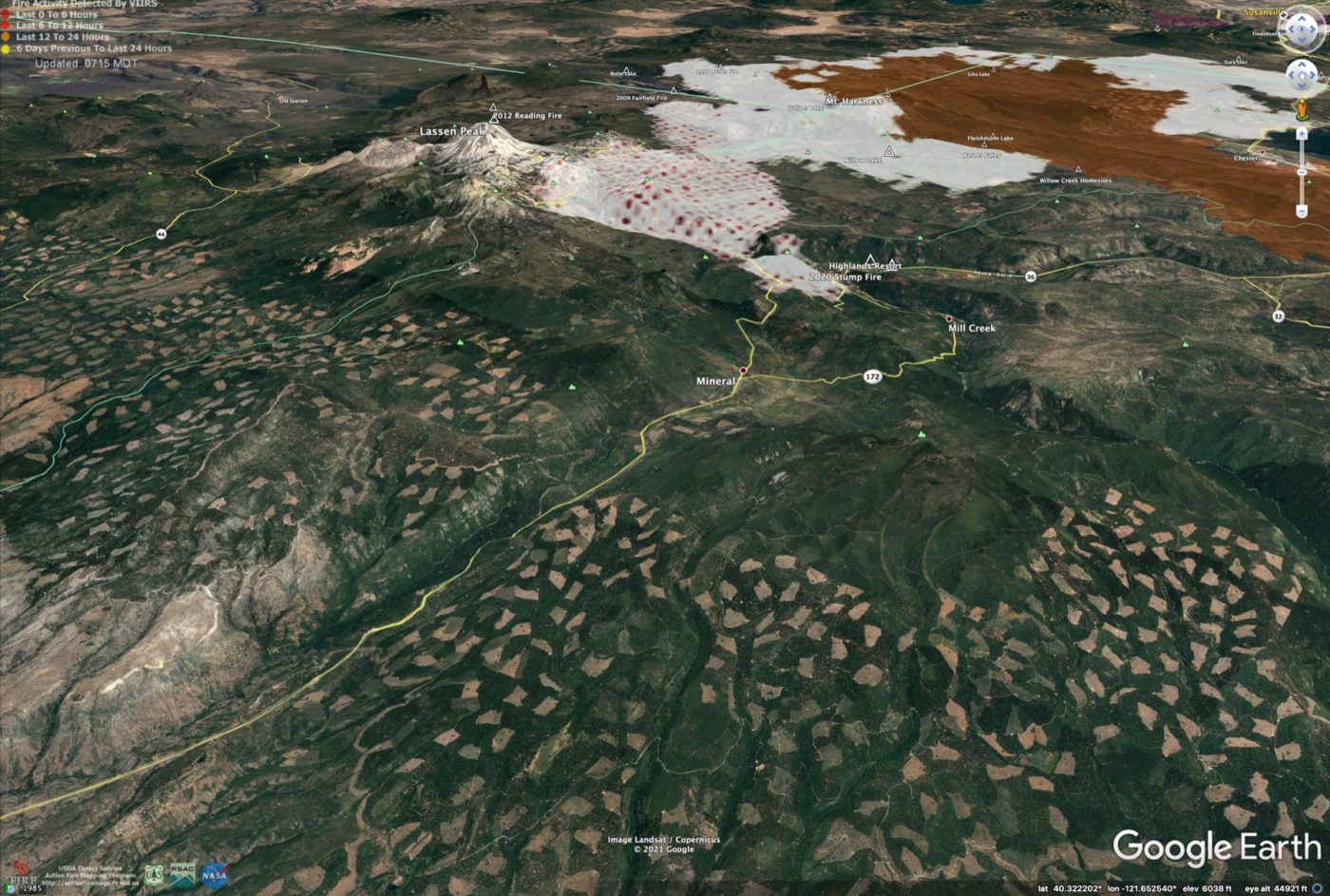 To the north of the new fires on Morgan Summit, the 2012 Reading Fire may slow the fire's spread, but since I wrote about the Reading Fire a few days ago, I have gotten input from people who know the area well and say all of the down fuels and brush in this area mean that it may not really buy us much advantage. Also concerning is how fast the fire spread in the high country of Lassen yesterday. The narrow gap between Reading Fire and treeline may be enough for the fire to squirt north (toward the viewer) in this area. Time will tell.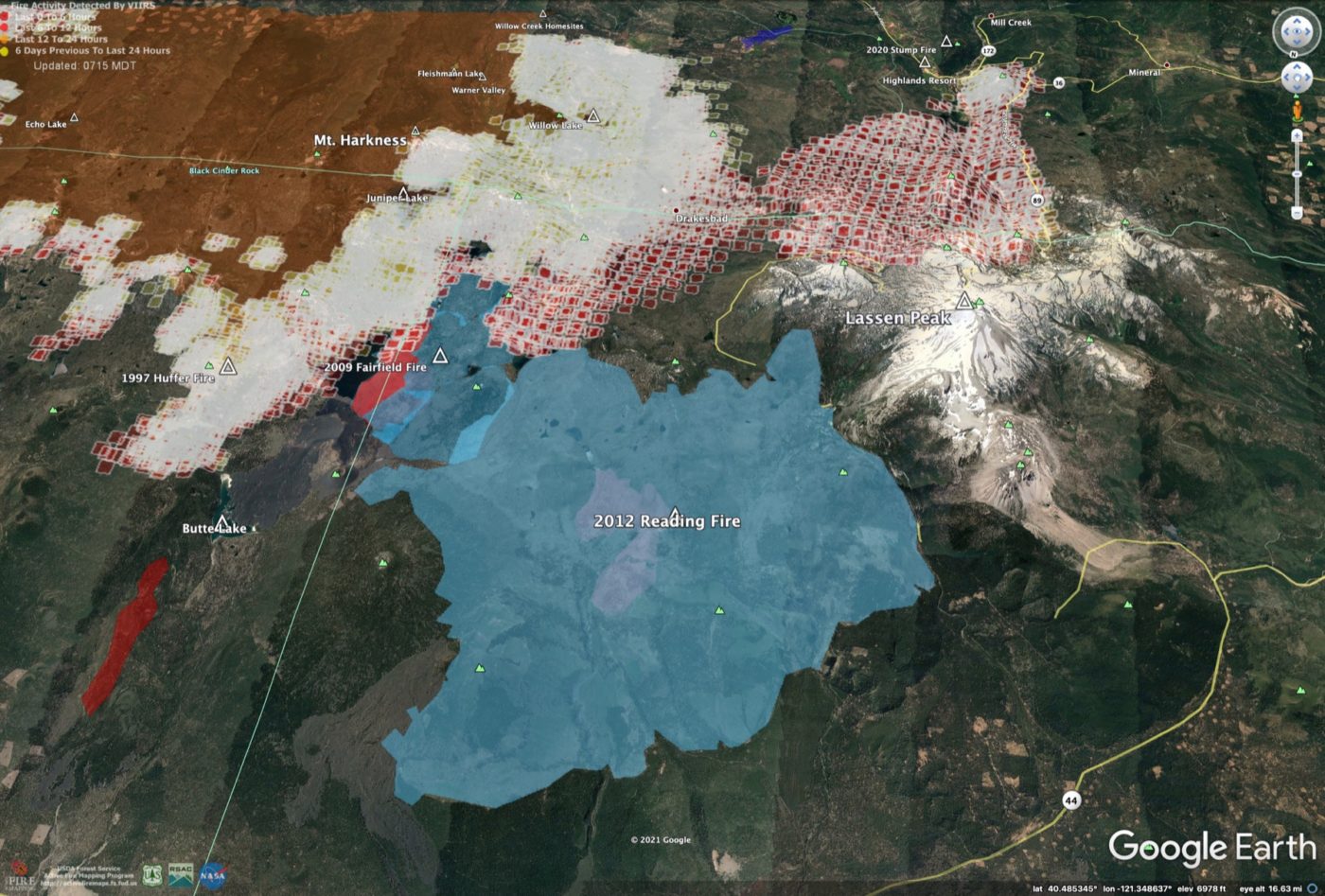 I said I'd have some good news, didn't I?
Westwood survived the night.
Chester and West Shore of Almanor are still looking safe.
Taylorsville is looking like it has a decent shot.
No giant meteors have been spotted heading for earth!
I've got two eight-hour meetings in next two days, starting in an hour, so the tweets and updates may fall off a little, but I'll be watching what I can. Thank you all for your emails, letters, and donations. Best of luck to everyone, and please, don't blame the firefighters for this disaster — some things really are beyond our control.