Video briefing for 9/4/2021
EARLIER:
9/3/2021, 9pm. A few pieces of new information from today:
According to a trusted local source, the
2012 Reading Fire
is too green to burn. The team is thinking about using napalm from a flamethrower to get it to go. I am assuming this would be along the lower perimeter of the blue shape on the map, below. From my source:
"The burn they did on West Prospect Peak was slow because the nine-year-old snow brush from the Reading Fire was too green to burn. From what I could see the other day thru the smoke when I went to Old Station, I don't think they got a clean black line, just some random stuff burning. They were talking about using a terra torch (truck-mounted napalm flame-thrower) to make it burn -hmm- if its that green maybe we should put some direct line up on the old reading fire scar and be done — but I get it, I am old school."
Spraying a bunch of napalm on the edge of a fire scar that is too green to burn and directly adjacent to eager-to-burn natural fuels seems like it could cause some real problems going into our strong east wind season. I am glad people seem to be taking their time to figure out this part of the fire. That said, the fire they put on the ground here a few days ago is pushing to the west and will soon outflank the area they fired. So once again, the fire is going to force our hand. There is a crude saying on Hotshot crews: 'Don't crawl up the devil's asshole with a book of matches.' Meaning don't rush to light back fires when you can't hold the fire you've already got. I have been thinking of this one a lot in the past 50 days.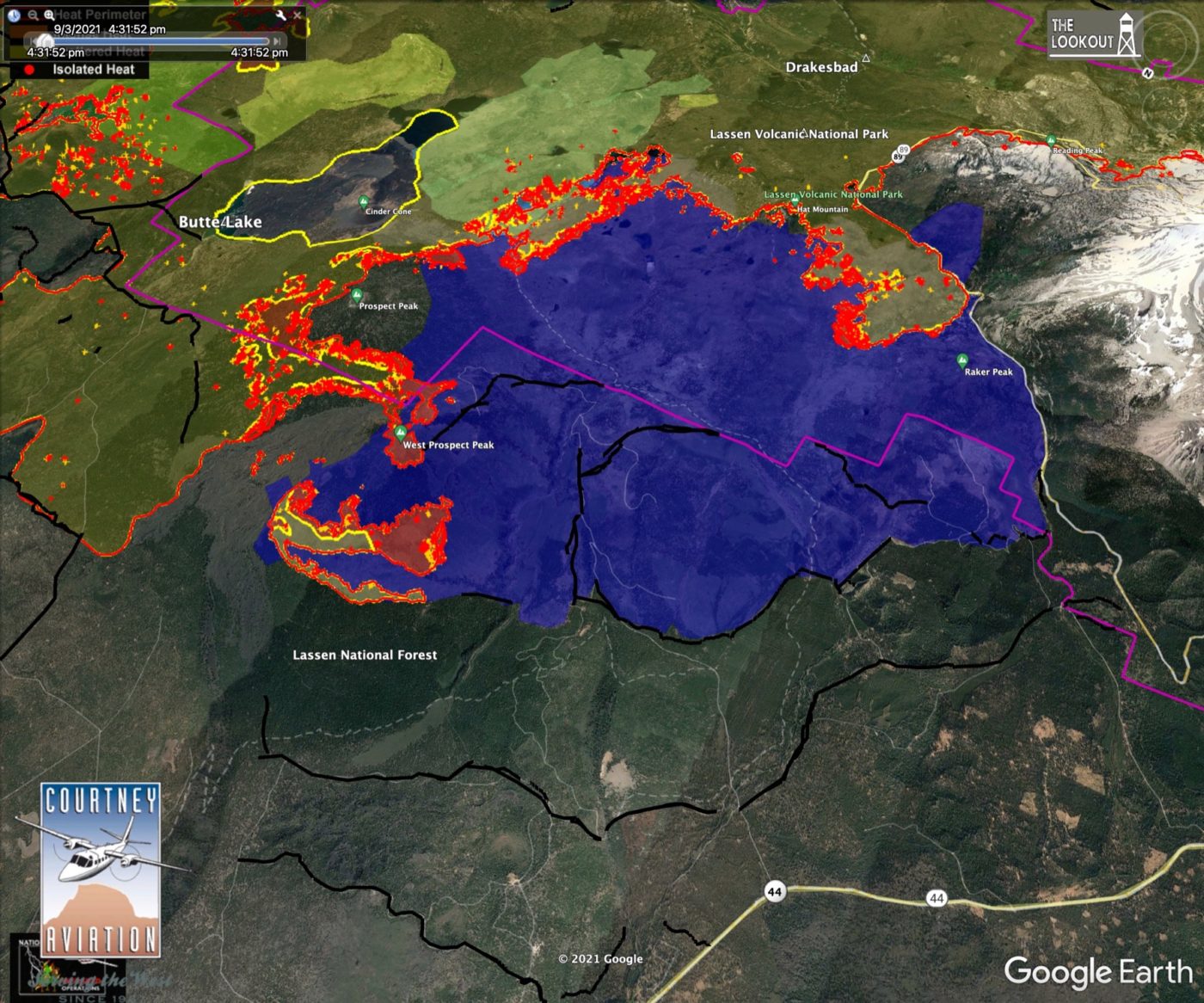 Below are a sequence of images showing where fire was the night of September 2 vs. September 3. The n
orth edge around the 10 Road spotted and spit, didn't have a lot of juice today.
Southeast part of fire got sick of heading east after 20 mile run and didn't push very hard toward 395.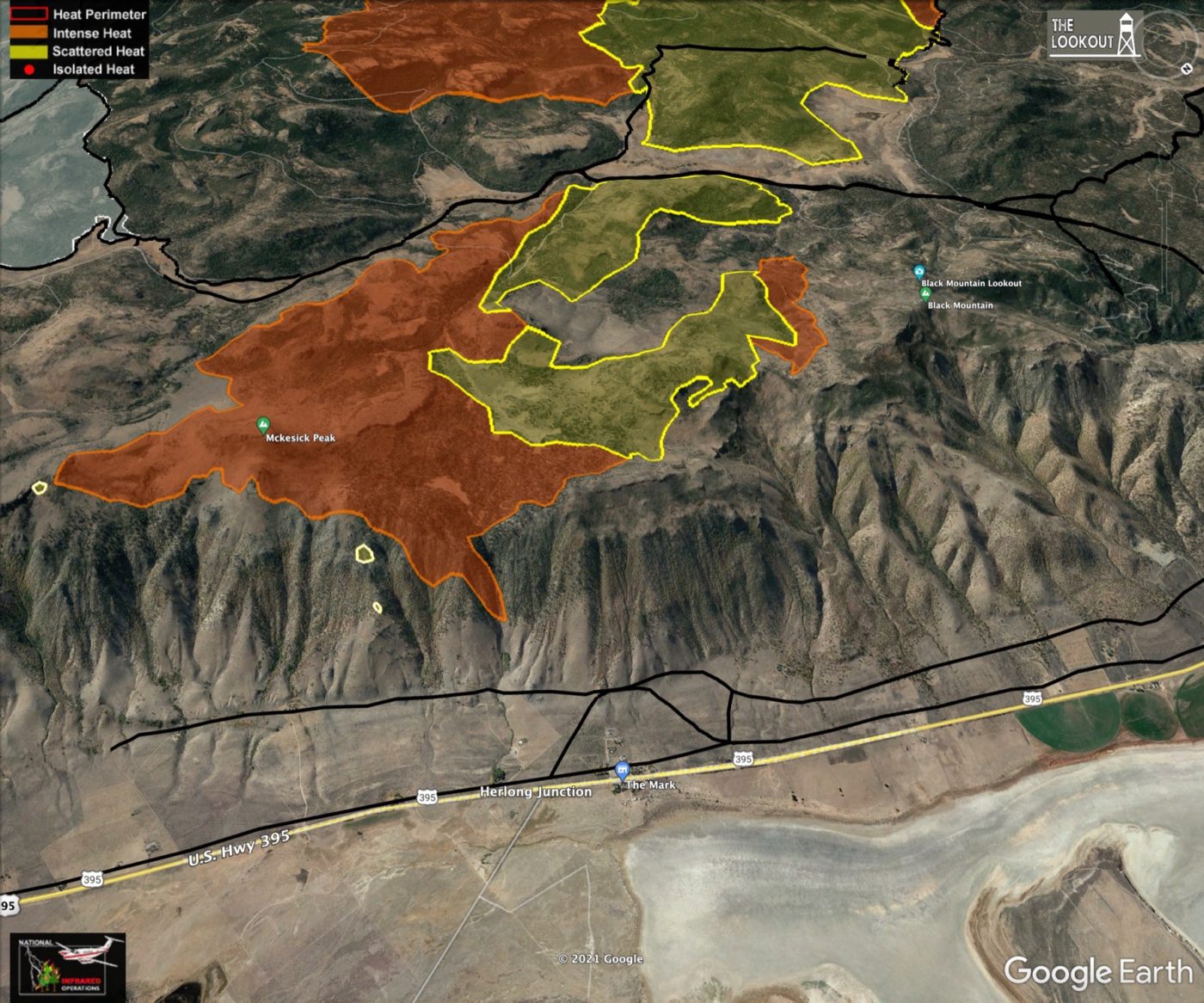 It did spot back to the west, though. It wasn't going to just behave…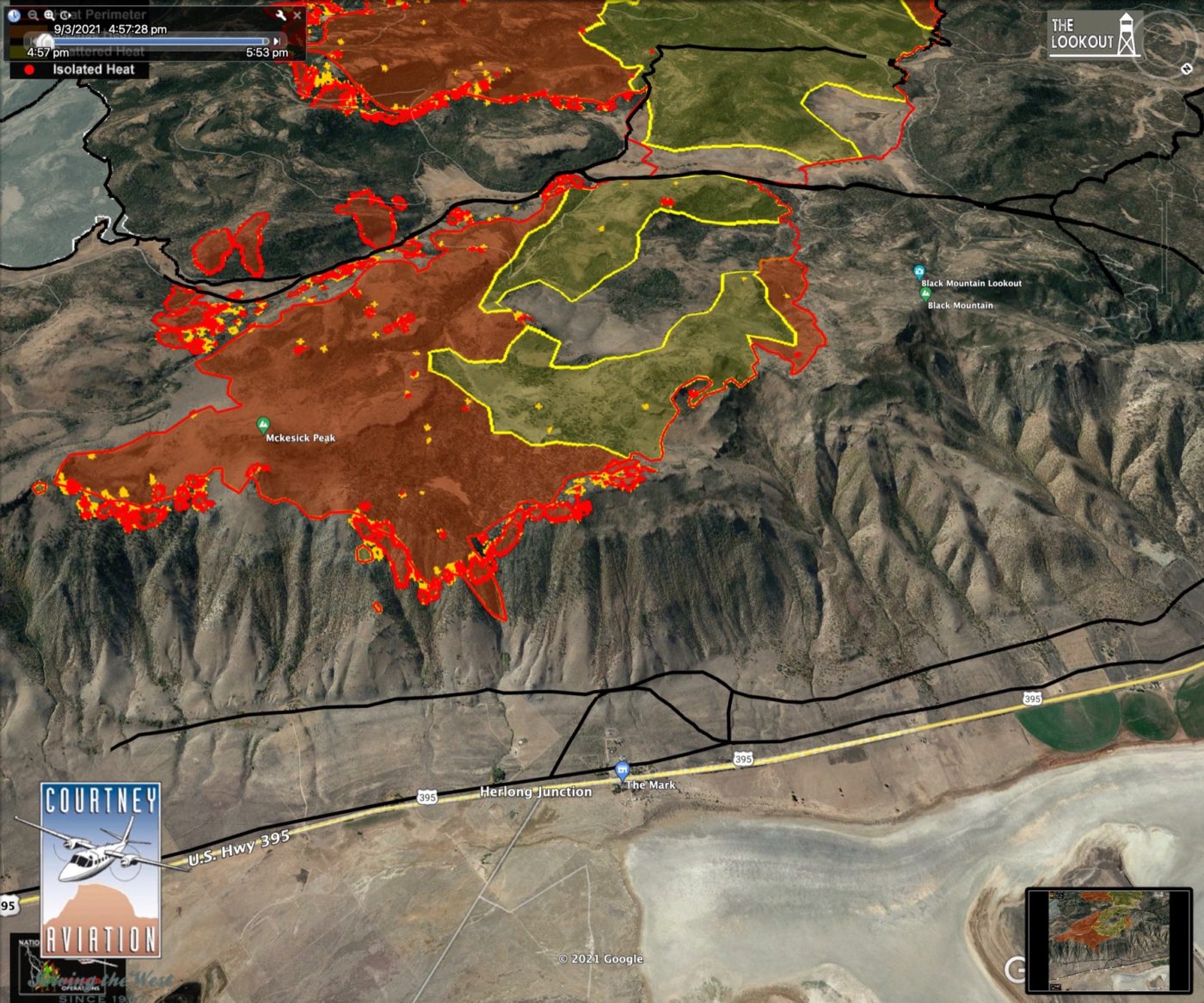 As I said in this morning's video briefing, desert firefighting has its own rules. Winds can switch radically many times a day. Similar to the northeast area of the fire, the southeast portion in the Beckwourth District is basically desert with some pine trees. Looking to the top of these images, you are peeking over the Pacific Watershed Divide into the Great Basin Desert.
In typical desert fashion, we've had a 90 degree wind shift each of the past two days. After strong SW winds slackened yesterday, the fire started to spread on the south and north flanks. Today, that southward spread got some east wind on it and and turned into a head fire setting a new course back to the southwest.
I am thinking the fire might have decided Herlong is too tough to burn and since there's still timber to burn toward Portola, Dixie marches on towards the only towns in Plumas County not directly threatened in the past 50 days. There is a lot of development between the fire and Highway 70 at places like Grizzly Ranch (7.5 miles from fire at 6:45pm). Fire was 11 miles northeast from Portola at same time.
View to north from Portola looking out at the fire's new spread.